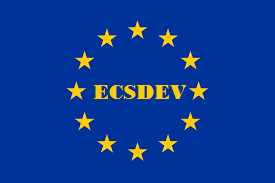 European Center of Sustainable Development ECSDEV CIT University
About Me
European Center of Sustainable Development conducts significant number of research projects each year mainly addressed to sustainable development issues. The research projects are conducted at national and international level. ECSDEV research teams are generally composed of faculty members and independent researchers from various countries of the world.
ECSDEV Center focuses on two types of research: Global Research & Academic Research. The global research program is designed to address the global contemporary issues. These research projects are carried out by a cross-cultural team of researchers. Here independent researchers, PhD scholars, faculty members and practitioners can participate in global research projects.
ECSDEV Center carries out the research projects in collaboration with the Canadian Institute of Technology and other European and Mediterranean Universities. ECSDEV Center has a proud team of international members majority of whom are faculty members, independent researchers, PhD scholars, and professionals.
ECSDEV Center publishes the research papers through the European Journal of Sustainable Development. The EJSD Journal is led by a team of reputed professors. The quick and double blind review process, rich editorial board, zero tolerance for plagiarism and high respect for publication ethics, a strong commitment for scheduled publication are the key features of the EJSD journal.
As an independent, non-profit, research organization ECSDEV Center works with policymakers, scholars, and public interest groups around the European and Mediterranean area to design, execute, and disseminate research that illuminates economics and social policy issues affecting the communities of the world. ECSDEV Center seeks to build a network of individuals and organizations that conduct and use policy research.
Keywords and matching areas:
Ideas in Progress
Microfinance
Natural Resources
Renewable Energy
Urban Management
Earth Sciences
Sustainable Tourism
Sustainable Transport
Climate Sciences
Environmental Law
Academic Writing
European Center of Sustainable Development in collaboration with CIT University will organise the 12th ICSD 2024 Rome, Italy in the days: Wednesday 11 to Thursday 12 September, 2024. The 12th ICSD 2024 will be an excellent opportunity to share your ideas and research findings relevant to the Sustainability Science,thro...
Plant Health
Natural Resources
International Cooperation
Earth Sciences
E-Health
Innovation & Research
Education and Training
English
Psychology
Journalism
European Journal of sustainable Development ISSN 2239-5938 (print) ISSN 2239-6101 (online) Is a double blinded peer-reviewed open access journal, published under the supervision of the European Center of Sustainable Development. EJSD was established as the official journal of ECSDEV, to provide an internati...