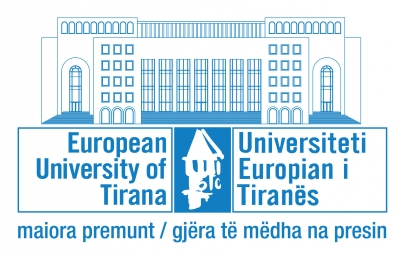 European Univeristy of Tirana
Looking for Partnership
Looking for Extra EU Funds
About Me
UET is mainly interested in the following disciplines:
§ Economics and Finance
§ Business Management
§ Law
§ Political Sciences
§ International Relations
§ Psychology
§ Information Technology
§ Education
UET would be highly interested to join ERASMUS + projects which are being established under Key Action 2: Co-operation for innovation and the exchange of good practices Key Action, Strategic Partnerships
Regarding International Relations, UET has an extensive experience in project development, networking and stakeholders' engagement. It has proven to be a committed a reliable partner in successful project management in various national and international programmes of research, capacity-building and ;UET has a pool of highly qualified researchers, lecturers and project managers and it also collaborates with local and regional CSOs and network of higher education institutions, businesses and other ;UET pays particular importance to its strategic communication, visibility of actions, dissemination of information, knowledge-sharing and exchange of experiences and know-how, which is an added value for the dissemination strategies of ;
Contact: Ketrina Çabiri Mijo (contact: )
Keywords and matching areas:
Ideas in Progress
Enterprise and Industry
Entrepreneurship and SMEs
Capacity Building
Social Innovation
IT
Innovation & Research
Erasmus+
Arts Education
International Project Management
Migrants and Refugees
UET has a wide experience in EU projects and activities. UET is already participating in projects funded by the European Commission, such as: Erasmus + Key Action 1, Erasmus+ Key Action 2/Capacity Building; Life Long Learning Programme – Jean Monnet Chair; Tempus Project; Erasmus Mundus; European Programme for Science and Technology (COST); Instrument of Pre-Accession IPA CBC, Interreg Bal...
Tirana, Albania
4 years ago