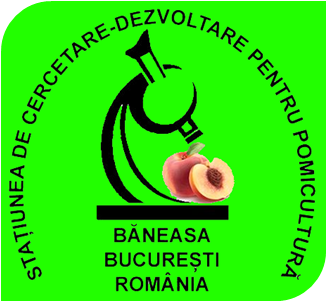 Statiunea de Cercetare-Dezvoltare pentru Pomicultura Baneasa - Bucuresti
Looking for Partnership
Looking for Consultant
About Me
SCDP Baneasa - Research and Development Station for Fruit Tree Growing Baneasa, Bucharest is a public institution subordinated to "Gheorghe Ionescu Sisesti" Academy - the national scientific body in the field of agriculture, veterinary medicine, food industry, forestry and environment - and coordinated by Maracineni Fruit Tree Growing Research and Development Institute, Arges.
SCDP Baneasa has been set up in the year 1977 by the Ministry of Agriculture that focuses on fruit trees and fruit-bearing shrubs study, in the southern part of the country.
The research activity developed by SCDP Băneasa focuses on new technologies for obtaining fruits and material for planting fruits.
The main directions and objectives of are related to fruit trees and fruit bushes in the new general trends of agricultural development, such as: hyper-precise agriculture, intelligent irrigation, food traceability, IoT, precision robotics, bioeconomy, circular agriculture and organic farming practices.
The scientific results obtained are to be transferred to farmers with farms located in the area of activity of the research resort, respectively Ilfov, Ialomița, Teleorman, Giurgiu, Călărași, Mehedinți, Dolj, Prahova counties.
The administrative headquarters of SCDP Băneasa is located in Bucharest (sector 1).
In Bucharest, there are also research laboratories, areas cultivated with apricot, cherry, apple and nursery plantations.
The main research, development - innovation activity takes place within two research bases located in Bucharest and, respectively, in Ilfov County.
Within the experimental base in Ilfov County (Moara Domneasca), the research area is planted with different varieties and cultivars of fruit trees and shrubs, apricots, peaches, nectarines, plums, cherries, apples, raspberries, currants, currants, blackberries.
SCDP Băneasa manages an area of 2 ha in conversion to organic farming for research, experimentation and demonstration of techniques and methods of production and management of fruit trees and shrubs in the organic system. Part of this area (200 sqm), is occupied by an experimental plot for researching raspberry and chokeberry crops in the organic system. SCDP Băneasa's concerns also include research into medicinal and aromatic plants.
Main activities performed by the Research Station are:
collect and preserve the germplasm fund for trees and fruit-bearing shrubs;
genetic proof of quality breeding of for trees and fruit-bearing shrubs;
genetic analysis of economical important characteristics of for trees and fruit-bearing shrubs;
finding out the biochemical markers involved in resistance against diseases and freeze;
induce genetic variability by conventional methods (hybridization, consangvinization , physical and chemical mutagenesis);
using biostimulators in fruit fruit trees and fruit-bearing shrubs;
research on integrated fight systems for apricot, peach and nectarine trees, strawberries and fruit bushes;
study of irrigation methods of apricot, peach, nectarine, cherry and sour cherry species for the south area conditions of Romania;
The development sector - as main beneficiary of research results - finances by own resources research themes and technological sequences such as:
introduction of new registered and patented varieties in pilot plots and studying their evolution in production conditions;
phytosanitary protection in integrated/organic system, monitoring and warning about phytosanitary treatments;
monitoring nourishment and fertilization in ecological system of fruit trees and fruit-bearing shrubs;
technological sequences for obtaining planting material free of viroses;
monitoring elements that reflects the quality of soil;
monitoring and warning about optimum wetting periods of fruit trees, fruit-bearing shrubs;
study and applications of weeds control methods.
In this mission, SCDP Baneasa collaborates with entities from the academic environment, private association, clusters and technology transfer centers as well as with those from the governance sector, from Romania and from the international community.
SCDP Băneasa works on a regional scale to create and strengthen collaborations between academia and fruit farmers in the region of influence of the research unit.
Keywords and matching areas:
Ideas in Progress
Agriculture
Agrifood
Social Farming
Innovation
Research
Blockchain
Artificial Intelligence
The project ideea aims the creation of a complete platform oriented to organic farming practices which are using BAT in production and marketing of produce. For the start we will focus on shrubs.
Bucharest, Romania
6 months ago
Agriculture
Agrifood
Biodiversity
Food Safety
Sustainable Development
EU Strategy Danube Region
Horizon2020
Research
Blockchain
EEA and Norway Grants
SCDP Baneasa and it's partners, is looking for collaborators and active partners in the fields of research, production and innovation oriented towards fruit trees and fruit bushes, in order to submit joint projects. Collaborators / partners must carry out or be involved in activities aimed at new general trends in agricultural development, such as: hyper-precise agriculture, intelligent irrigation ...
Bucharest, Romania
6 months ago