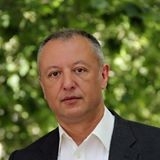 Georgios Giannoulis-Giannoulopoulos
Looking for Partnership
Looking for Extra EU Funds
About Me
More than 23 years of experience in business planning, decision making process, work/financial/personnel management/ coordination, monitoring, implementation, operation, funding schemes of innovative actions, investments, sustainable development and multi-transdisciplinary research projects in the sectors of environment and sustainable development, regional development, smart urban solutions, cultural heritage, tourism, economic social and technological innovation through state-of-the-art digital ;
I have obtained a DEA in sustainable development , culture and tourism from the Ecole des Autes Etudes en Sciences Sociales, (Paris , France, ) after the succefull completion of its degree in Economic studies, in development, management, BA and European studies in Athens.
Have planned, managed and coordinated 73 European multinational projects as well as national actions in the fields mentioned above, including innovative construction and technology infrustructure investements, with budgets from 300K€ up to 55 million € ; The projects have been implemented under n 4 consecutive European Framework programs since 1998 till the actual Horizon calls, as well as national actions, structural funds, interreg initiatives, in various European countries.
I have planned, coordinated and worked in projects, involving teams, companies, organizations and legal and social frameworks of various countries, as presented following, I have developed a deeper and wider understanding of different economic and social business environments as well as a know-how of the processes in the European and international level. I have coordinated directly or through my team of managers and financial assistants multidiscipline, multisector and multinational teams employees of the organizations I worked for of external, experts, researchers, policy makers, subcontractors, teams of the various international consortium members.
In depth experience in evaluation, monitoring, and selection processes of projects and policies, technical/financial evaluation operation planning including personnel adaptation and financial planning.
Through the national and international networking I developed an extended business network worldwide researchers, universities and public institutions and with different kinds of companies, (services and technology providers, constructors, industries/companies of various ;
I have collaborated various entities in most of the EU member's countries and I also have collaborated in various projects with institutions, research centers, public authorities and companies in the Middle east and Northern Africa, South America and USA.
I have followed and participated in a large number of conferences during the last 23 years, as invited speaker and/or publishing relevant papers, indicatively mentioned in the current resume.
I have a deep knowledge of public/ private procurement and contracts framework, management & audit methods of large scale projects, contract management, EU legislation & regulations, policy making influence, administrations' modernization policies. Business plans, identification of private funding opportunities and schemes, sustainability and profitability, concept development, implementation coordination, operations' organization in line with the technological and operational trends and the state-of-the-art evolution.
Since 1998 up to to 2014 I workd in one of the pioneers institutions in the large scale introduction and implementation of digital technologies in cultural heritage and ; Heading a department of 7-10 project managers and 3 financial and HR managers. I coordinated more than 200 permanent employees and various departments (informatics, operational, research, development, accounting), external collaborators in various international multinational teams, all over Europe and abroad. I have also developed the technical and financial requirements of contracts, grants and tenders in collaboration with legal advisors, in a result based approach, covering technical financial aspects. Besides the overall coordination of the projects he had designed the operational business planning and structure, and the digital transformation of the organization for the sustainable operation of the projects, must of which are still successfully ;
Between 2014-2015 he worked among other consultancies in the design of multi-thematic a network of virtual museums for the municipality of Aristoteles in northern Greece, selecting and coordinating the experts, historians, multimedia designers and managing the external stakeholders such as the mining companies of the region, in order to achieve a sustainable plan for the new museums and the maximum positive impact fot the economic and social development of the local stakeholders.
Since 2015 I collaborate as a senior expert with University the Pompeu Fabra (Barcelona Spain) in the fields of cultural heritage and digital humanities, tourism and envrionment, community building and smart access to cultural assets. I have implemented on behalf of UPF the Virtual Multimodal Museum project.
On the same time during my career I have provided consulting, evaluation and monitoring services in the fields of his expertise , to various national and international institutions and policy makers , such as ministries, related to his expertise state agencies, the European Commission. He has lived studied and and worked for long periods in 3 European countries, France, Greece and Spain
Keywords and matching areas: