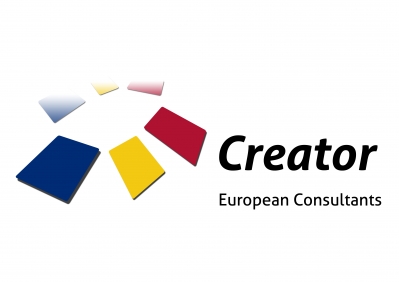 CREATOR EUROPEAN CONSULTANTS, S.R.L.
Looking for Partnership
Looking for Extra EU Funds
About Me
CREATOR EUROPEAN CONSULTANTS is a Romanian company specializing in professional training and EU Funds.
We´re providers of adult education and training, approved by the National
Qualifications Authority, which operates training.
Creator European Consultants has specialized staff with a solid professional, experienced and motivated existing achievements and prospects.
Creator has experience in Erasmus+ K2 projects and POSDRU Projects (Romanian Program in human resources development)
We generate constructive ideas, preparing appropriate Erasmus + KA2 projects and other EU programs related about training and innovation in the professional development of people.
Creator is specialized in developing Intellectual Outputs: curricula, pedagogical and youth work materials, open educational resources (OER), IT tools, analyses,
studies, peer-learning methods, surveys and reports, inventions,
Creator operates training based on the following principles:
 Develop personal and professional skills and abilities of students.
 Civic and ethical standards in all actions and behaviors.
 Preparing students for professional practice nationally and internationally.
 Education in the context of leadership, teamwork and efficiency in the decisionmaking process.
Keywords and matching areas:
Ideas in Progress
Education, Training Centre or School
Adult Learning
Erasmus+
Cultural heritage
In recent times, a recovery has become apparent due to the interest that older people arouse as a source of knowledge about the cultural heritage of the populations in which they have often resided since birth. Historians, professors, researchers, tourism professionals, are beginning to consider the elderly as a source of knowledge and preservation of cultural heritage that especially...
Bucharest, Romania
5 years ago
Education, Training Centre or School
Innovation
Erasmus+
Creative Industries
Design
Digital Culture
Fashion
The fashion business is committed to digitalization. 91% of the companies in the sector believe that investment in the digitization of their business will be a key factor in the next five years, according to the study Transformare le operations in valore nell'era , prepared by the Ernst & Young consultancy. In the fashion industry, knowing the technological tools for design ha...
Bucharest, Romania
5 years ago