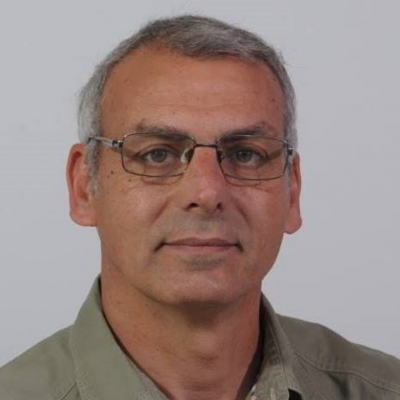 Andreas Fasoulides
Looking for Partnership
Looking for Extra EU Funds
About Me
Andreas Fasoulides Work Profile
Born in Famagusta of Cyprus at 4 of June in ;
He graduated from the Technical Faculty of Limassol in the sector of Metal and metal welder .
His first step on ceramics made on Costas Michailidis ceramic workshop " MEONHS "
In 1985 a ended courses for ceramics from Professor Valentinos Charalambous organized by the Center of Productivity of the Ministry of trade and ;
From 1987 up to 2000 he worked as a self-employed in his own Ceramics workshop called "Floga Pottery".
At the same time he designed and manufactured professional Ceramic Gas ;
From 1997 and for many years he organized courses of pottery in Kaminaria that were financed by the Cultural Services of the Ministry of Education and ;
In May 2004 he organized the European Ceramic Pottery Workshop in Kaminaria in collaboration with the EKATE under Cyprus Parliament to celebrate our entrance into the ;
At the same time the last three years he participates in the European Programs for Adult Education of with the program Socrates as a representative of the Folk Culture Center in ;
From 2005 he worked in the Education Centers of Limassol as the instructor of Ceramics, and Wood ;
In 2009 he created a ceramic boat 2 m long in collaboration with Constantino Michaelides and placed at Livadia primary school .
Founder of Renewcy Low tech Workshop for developing Solar Cookers in ;
In June 2010 Andreas was employed from Soula Christou ( Mosaic- Collective shop) working with mosaics and se ing up an ;
In 2010 he trained in the Woodwork profession in Cyprus Productivity ;
In 2011 he worked experimentally with Dr. Maria Rosaria Belgiorno Archaeologist in order to remake bronze age pottery from Pyrgos. Since then he practiced in this sector and became a professional on remaking ancient ;
In 2013 he graduated from DEPARTMENT OF SECONDARY TECHNICAL AND VOCATIONAL EDUCATION in Technical School of Limassol on Pipe welder for Liquid and ;
Till 2016 had the chance to study in deep Material Engineering and expatriated on European Funding Programs .
In 2015 he organized the 1st Experimental Archaeological Workshop on Ancient Ceramics in Cyprus 2015 working with ERASMUS INTERN ;
He also became a Host Entrepreneur for Erasmus Internships and for Erasmus for Young ;
In 2016 he organized the 2st Experimental Archaeological Workshop on Ancient Ceramics in Cyprus 2015 working with ERASMUS INTERN ;
In 2017 he organized the 3rd Experimental Archaeological Ceramic Workshop and a traditional pottery project ''Pithos'' in Geroskipou Municipality .
Also he established the " Routes of Clay " in Geroskipou ;
In 2018 he organized the " Silent Artouch " project for disabled ;
Also the 4th Experimental Archaeological Workshop on Ancient Ceramics in ;
In 2019 he organized the 5th Experimental Archaeological Workshop on Ancient Ceramics in Cyprus 2019 working with ERASMUS INTERN students in Troodos ;
2019 Environmental, research – experimental and educational workshop ancient ceramic pottery. From 24 to 30 June 2019 and 1 until 7 July 2019 In the area of Trozena – Gerovasa near ;
2019 certified on social entrepreneurship vocational education on INNOVENTER (h )
2019 certified as a professional trainer at ESTIA GNOSIS (h /)
2019 He create the Vocational Training Program for People with Disabilities as a member of the regional commi ee of PANCYPRIAN DISABILITY RESTORATION ORGANIZATION
He is a founder of TERRA ARTE social company with Maria Fasoulidou and Cristina Munteanu
He is a founder of "Xarkis" culture Festival organization,
Also founder of Diatehnon Culture Center in Limassol,

Keywords and matching areas:
Ideas in Progress
Entrepreneurship and SMEs
Social Innovation
Education and Training
Adult Learning
Erasmus+
Rights, Equality and Citizenship Programme
Social and Welfare
Migrants and Refugees
We are looking for individuals or organisations to join us, as partners in order to establish continual communication , mutual trust and define common interest and opportunities in social economy . Objectives: Revive ancient cultural heritage of member countries, Promote environmental practices in education and entrepreneurship, Develop special partnership for social co ...
Germasogeia, Cyprus
3 months ago