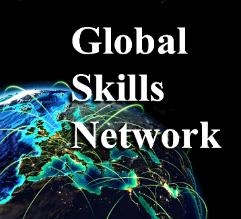 Up

2

Europe Expert
Global Skills Network SL
Entrepreneurship and SMEs
Education and Training
About Me
Global Skills Network is looking for opportunities to apply skills as a consortium administrator in terms of creating responses to calls for entrepreneurship education and training. Please view our website at entrecomped . eu. Our model involves EntreComp training modules, a Community of Practice and Virtual Badges for qualification transparency, as well as telecollaboration in terms of virtual exchanges for dialogue, discourse and intercultural understandings.
We build and maintain partnerships for cross-border collaborations in Europe, the European Union/EEA and Mediterranean/Ionian regions that includes the Middle East and Northern Africa. When preparing a joint project proposal, our staff delves deep in the issues to assure the proposal addresses a challenge - the WHY - with activities that can overcome a constraint - the causes and effects of a problem or challenge - and highlights the cross-border relevance of the solution being proposed. We are a project's communicators with native-English speakers for keeping the partners informed from the beginning of bringing the partners together for planning through the proposal preparation and during the implementation and dissemination phases.
Our newest venture is , a collaboration of educators, nonprofits and community development initiatives addressing the United Nations' Sustainable Development Goals. Twitter: @SolvingSDGs and @SDGHumanFaces
Global Skills Network has a long history of collaboration and partnerships. Since 2003, we have partnered in lifelong learning programmes and projects promoting entrepreneurship and innovation by organising,monitoring and certifying a wide range of projects - from internships and work experience to training, VETPRO and strategic partnerships for cross-border collaboration. We are the premier transnational project management specialists for Erasmus+ and lifelong learning in Catalonia, headquartered in the Mediterranean's most vibrant city - Barcelona!
Sandra Lund-Diaz, , is our Director of Strategic Partnership - send her a note to info at globalskillsnetwork com or visit us online at globalskillsnetwork com
Our network includes: EYE - The E-Incubator for Young Entrepreneurs (eyeincubator com) for EntreComp entrepreneurship education and training; Erasmus Actions for Erasmus+ mobility (erasmusactions com); Crisalus (crisalus com) for telecollaboration and virtual exchanges; Knowledge Building in Action (kbinaction com) for inquiry-based learning and training courses - online or in-country - including training the trainer workshops.
Follow us on Twitter @EntreCompEd @SolvingSDGs @GlobalLinkages @ErasmusActions, @CrisalusDialog, @KB_in_Action
European Proposal Preparation to Get Funding
Every steps necessary to prepare a winning proposal
The preparation of a proposal is no simple matter: a winning project idea must be identified, the right partners must be contacted and involved, the application form and all supporting documents must be duly filled out. Above all, outstanding coordination capacities and large experiences of proposal writing are essential for a successful submission. Applicants' organisations often lack these competences, which makes the process much longer and complex.
This is where Up2Europe Experts come into play!
Up2Europe Experts provide support/fully undertake selected or the complete package of preparation tasks - from providing advice in the development of the project idea and goals, to partner search and consortium building, recurrent review and proof-reading, preparation of administrative documents, up to the actual submission to the financing agency. Up2Europe Experts bring added value to your proposal, by making sure it is clear and consistent, understandable and appealing for non-technical people, and that it meets the requirements of the selected call for proposals.
Thanks to their solid experience in proposal writing and project implementation, in the evaluation and review of project proposals, as wells as their deep knowledge of the priorities and the selection criteria of EU programmes and instruments, Up2Europe Experts ensure a smooth and effective preparation of your proposal, resulting in the submission of a high-quality proposal.

Need a more detailed description of this service? Contact one of the Up2Europe Experts.
Managing European Projects
An expert manage your project
Project Management is much more than drafting gantt charts and filling out budget sheets. It entails several tasks that requires time and specific skills, which are not always available in the beneficiaries' organisations. But, good news: management tasks can be easily outsourced! An Expert can assist you throughout all phases of project implementation.
Up2Europe experts provide support/fully undertake selected or the complete package of project management tasks - ranging from resources and work planning, to coordination of the consortium, maintenance of a project repository, organisation of meetings, reporting, budget monitoring, etc. - allowing you to focus on the scientific and technical activities.
Thanks to their deep knowledge of project implementation and their solid experience in the management of projects in the framework of different EU funding programmes and instruments, they can ensure an effective and efficient achievement of set objective and results.
This is just a short description, if you need more details, please ask for a Quote!
Training on European Projects Management
Training courses on European Fundings
Training in courses and masters on European Project Management, project design, advisoring on direct and indirect European funds, presentation of various funding programmes, Project Cycle management techniques, implementation and financial reporting
We focus on a very practical approach with exercises thought for the individual needs and client case.
Funding Opportunity Report
All opportunities filtered by eligibility criteria
Is your project idea eligible for EU funding? Which calls for proposals or tenders can you apply for? And how much could you obtain? The Funding Opportunity Report can answer these questions! UP2EUROPE experts will scan through the most interesting and appropriate EU funding opportunities in European programmes and instruments, in order to identify those that are more relevant for your project proposal.
Funding opportunities are plentiful: calls for proposals are issued every week by the numerous EU bodies. Keeping track of each one these opportunities and recognising those that better match your project idea is not easy, but it is crucial to increase your chances of receiving the grant. Furthermore, the different programmes and instruments apply different rules in terms of partnership requirements, financing and co-financing amounts, activities that can be implemented and costs that may be included.
Thanks to their sound experience working with EU funding and their thorough knowledge of the eligibility criteria and requirements of EU programmes and instruments, and taking into account your current projects and future ambitions and your network of collaborators and partners, UP2EUROPE experts can support you in identifying the most relevant sources for funding your project ideas.

This is just a short description, if you need more details ask for a Quote!
Assistance Via Email/Chat/Phone
Direct support by email/chat/phone about European projects
The submission deadline is approaching and you still have doubts on the necessary support documents and their correct format or on the submission process itself? While preparing a project proposal you need a timely reply to questions regarding partnership requirements, the content of specific sections, or the eligibility of activities and costs?
An Up2Europe expert can resolve your doubts and answer your question in real time at any stage of the preparation and submission process.

By means of the service Live Support & Assistance on European Projects an UP2EUROPE expert provides real time support by email, chat or phone, easing the preparation and submission of your proposal and making sure you avoid the most common errors, increasing the chance of receiving the funds.
Target Calls

Here are the calls I'm working on.