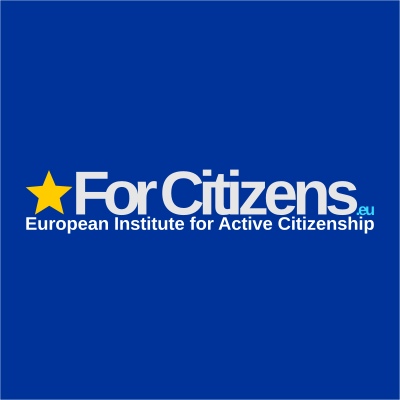 For Citizens - European Institute for Active Citizenship
Looking for Partnership
Looking for Extra EU Funds
About Me
We are an institution independent of governments, political parties, philosophical and religious conceptions, with the objective of promoting civic and democratic participation. For Citizens is Think Tank especially dedicated to the European Union and the European citizenship, based on the defence of Human Rights, equality, social integration, environment and the participative democracy.
Throughout cooperation with other institutions, we are implementing projects oriented to every citizen, to encourage their interest, engagement and participation in European politics.
We develop scientific surveys and researches on civic, political and social movements with the aim to objectively analyse, produce and disseminate knowledge and information. Our objective is to foster social and political transformations that allow a more democratic participation of the European citizens.
Through audio-visual and other media supports, we disseminate investigation, surveys, information, as well as scientific researches.
Get involved! Join us!
Keywords and matching areas:
Ideas in Progress
Erasmus+
Creative Europe
In 2018 and 2019, our team will start to test the online transmission. In 2020, our team will start to transmit, at least: 2 daily news clip, 1 weekly European history program, 1 weekly interview and 1 weekly resume of the main intervention and issues in the European Parliament. In addition to that, every partner or other interested (and interesting!) European NGOs may present their work – t ...
Lisboa, Portugal
1 year ago