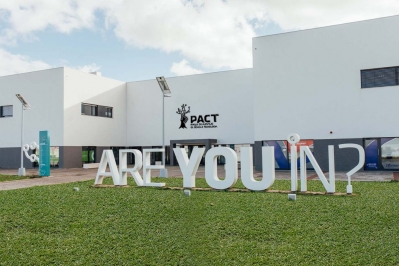 PACT - Parque do Alentejo de Ciência e Tecnologia, S.A
Looking for Partnership
Looking for Extra EU Funds
About Me
PACT is a dynamic system that is constantly changing and adapting, due to the changes in the region and society. Currently, this capacity for change has been achieved through a new image and acronym. PACT, as a center of innovation knowledge and technology, is now representing the Alentejo region internationally, supporting those who wish to have an "InPACT" in the future.
•PACT's mission is comprised of four pillars:
• Boosting the creation and growth of companies in the Alentejo;
• Be a magnet for innovative companies with sustainable results;
• Promote the scientific capacity and international ambition of the region;;
• Make a significant contribution to the European innovation agenda by encouraging the transfer of knowledge between the research base and innovative companies.
By that, we promote the companies integrated into our network providing them incubation of various ;
PACT is integrated into a series of different projects both national and international
Keywords and matching areas:
Ideas in Progress
Business Support Organisation
Accelerators
Clusters
Entrepreneurship and SMEs
Innovation
Start Up
Technology Transfer
Web-Entrepreneurship
Partnership Management
PACT is trying to expand it's idea internationally and its also beginning the second phase of its buildings expansion in order to receive and incubate new companies, especially from abroad.
1 year ago