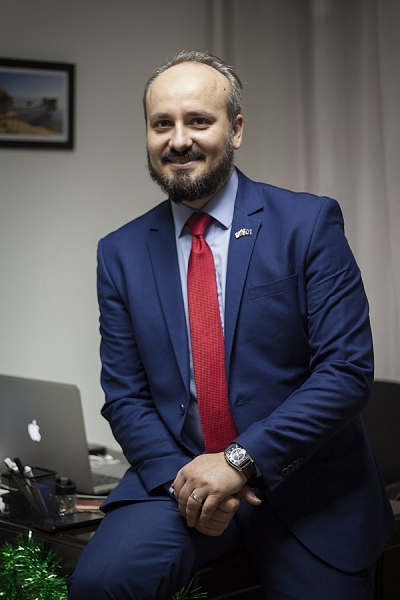 Ilija Vuckov - Emkice, The Euro Macedonian KIC
European Union
Horizon Europe
About Me
Ilija Vuckov married and father of one, Co-founder and Managing Director of Euro-Macedonian Knowledge Innovation Center Emkice and Macedonian business angels network MBAN-Macedonia, and AGV Design Group.

Ilija Vuckov is a serial entrepreneur and industrial designer, president of Emkice and newly Macedonian business angels network MBAN. A winner of MKD national business plan competition, finalist in Doha, Qatar knowledge parks & Innovations worls competition. As student after gaining work & internships experience in industrial design & marketing department at Johnson Controls in Germany, Slovakia, he founded two start up's, one failed, one 4th year running. Also a co-founder of AGV Design Group, an Industrial design, Innovations and Product Development Company. His work brings several patents, IPR's on innovative product designs, experienced with production of one sports car-roadster, a touristic and mini bus, one electric vehicle prototype and design4manufactoring of fiscal cash register for 80Mil market in Turkey. His engineering experience comes from innovative product design and Product Lifecicle Management in focus for support of SME's for commercialization of innovations.

Last 7 years working actively in NGO sector in area of Access To Finace, EU funds for R&D as senior expert and consultant experienced with succesfull and unsuccesful project applications. Supporting the academic, public, private sector, SME's and entrepreneurial eco-system conducted more than 30 traings&coaching, 100 lectures and several adopted EU funding strategies. He has worked as consultant to GIZ - German Technical Support, Five Capital cities in SEE, 13 Law faculties - SEELS network, large companies and several SME's for CIP, FP7, Horizon2020 and COSME, and a EU Fuding Strategy for EBAN, where first engagement with EBAN was from 2007 in Archem, Holland. Activities in that area bring him as co-organizer of numerus events in Macedonia and the region. Ongoing activity is establishing the EU Funding Accelerator&Academy and previously the COSSME (Cooperation for Support ofSME's). Acting now as a regional consortium with more than 50 member institutions with regional office to be established in Brussels.

He was member of EIPC - European Commission budgeting committee for Competitivenes and Innovation Programe for 3 years (2012-2014) as country expert nominated by Ministry of foreign affairs under the Ministry of Economy.

He is at Master studies on Leading Innovations and Change topic, and speaks English, Serbian, Bulgarian, Greek, Italian, and regional languages of all neighboring countries of Macedonia.