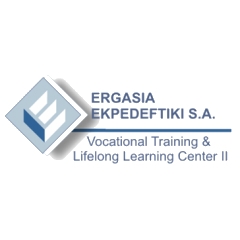 ERGASIA EKPEDEFTIKI SA
Looking for Partnership
Looking for Extra EU Funds
About Me
ERGASIA EKPEDEFTIKI is a Vocational Training and Lifelong Learning Center, offering extensive experience in providing training services and career & business counseling. Our Center is certified by the National Certification Agency for Qualifications and Career Guidance, with very good ranking for vocational training in Greece based on the evaluation of the Ministry of Education. The company has trained - to date - more than 10,000 people across Greece, performing more than 2,000,000 man-hours of training programs in almost all business sectors (Tourism, Information Technology, Finance & Administration, Technical Professions, Manufacturing, Transportation, Health & Welfare, Agriculture professions, Environment, Pedagogic, and Culture & Sport).
Our mission is to contribute to personal and professional development of our trainees, and hence to personal and professional well- being. We are also commited to offer to our partners and local stakeholders (public - private entities, individuals. local authorities) specialized solutions in development, training and adaptation of their workforce.
Our main objectives are; the implementation of high quality training programs aimed at developing of Human Resources (unemployed, long-term unemployed, employees, self- employed), the development of pioneering educational materials, tools and applications with emphasis on the development of methods on distance education (e- learning), linking training to the labour market, support of SME's, participation in European Projects for exchange of ideas, experience and know- how transfer.
The main activities of ERGASIA EKPEDEFTIKI are services provided in the following areas:
Vocational training to unemployed, employees and self-employed.
Career Counseling and support to unemployed and employees on issues such as exploring career interests and skills, professional orientation, connection with the labor market.
Development, Coordination and implementation of integrated projects, development programs, national and European initiatives.
Business Consultation & Mentoring
Keywords and matching areas:
Ideas in Progress
Education, Training Centre or School
Education and Training
Erasmus+
Climate change (CC) may have significant influence on the ability to provide safe and sustainable drinking water.  It is crucial from a strategic point of view to assess the possible range of impact of CC on the water resources used for drinking water supply and to delineate critical areas where measures are needed. The main objective of EWSuCCI  is to safeguard water availability and safety ...
Education, Training Centre or School
Education and Training
Erasmus+
  · Development of Trans-national training course module for Civil Protection Volunteers (Partly peer - education/ partly with the use of external expert trainers) · Carrying out local module of training course and knowledge exchange (training of local trainers) · Expert/practitioner exchange (between partners) · Writing Evaluation reports based on local evaluation workshops · Devel ...