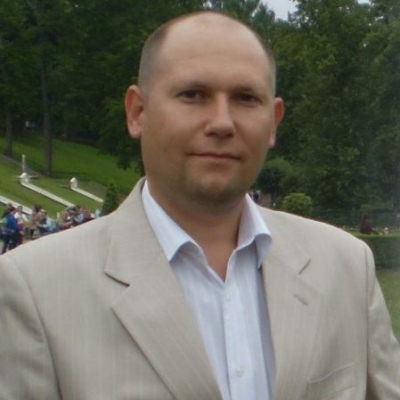 Александр Викторович Соломаха
Looking for Partnership
Looking for Consultant
Looking for Extra EU Funds
About Me
I am Aleksandr Solomakha, PhD (Engineering Sciences), co-owner, Deputy Technical Director and Head of Department of Innovative Technologies of R&D enterprise PComplex (). Since 1999 I have had experience in electromechanical engineering, control system design and Matlab/Simulink engineering.
Simulink (Matlab) engineering - is my passion. It is a perfect tool to develop, investigate, improve any of my (or not mine) innovative ideas. And I use it together with my main skills - Electrical engineering and Control system engineering, which I like too.
I have experience with Matlab/Simulink Toolboxes: Simulink, Simscape (Foundation Library (Electrical, Mechanical, Thermal), Driveline, Electronics, Power Systems), Control System Toolbox, Robust Control Toolbox, Simulink Control Design, Embedded Coder, DSP for TI C2000, GUI.
Since 2004, more than 2000 models and scripts have been developed.
Mainly, I use Simulink engineering in 3 directions.
1. Control system design with detailed plant model (Structure development, Controllers tuning, Testing using plant real data etc).
2. Stability analysis for electric system (Simulation and study of transient stability, Harmonic analysis, Improve specifications and optimize system performance).
3. Analysis of fault cases in electric drives with power DC or AC converters (Simulation and study of electromagnetic and mechanical transients, Development of protection algorithms for control system, Development of requirements for protection devices).
I am looking for innovative projects in which my team could apply our skills to develop modern ;
Keywords and matching areas:
Ideas in Progress
Electronics and Microelectronics
Innovation & Research
Industrial Engineering
We can offer development, simulation, solution in industrial electrical area.
Zaporizhzhia, Ukraine
2 years ago
Energy Efficiency
Intelligent Energy
Aerospace Technology
Digital Economy
Electronics and Microelectronics
Innovation & Research
Education and Training
Horizon Europe
Research
Industrial Engineering
Together with partner we can: - provide solution for complex projects, - exchanging knowledge
Zaporizhzhia, Ukraine
2 years ago