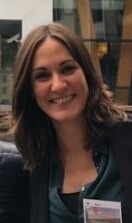 About Me
I am a qualified Tourism Expert and Project Manager specialized in Sustainable Tourism Development Programmes with more than 11 years of experience planning, developing and implementing Sustainable Tourism Strategies and Public Policies for a Regional Government. I have been responsible for:
- The implementation of Tourism Public Policies at regional level.
- Identification of collaboration opportunities in the framework of the European Territorial Cooperation.
- Management of ETC Projects.
- Building relations and advocacy with European Union Institutions and International Organizations.
Since 2008, I have developed my professional activity as Tourism Expert for the Regional Ministry for Tourism in Andalusia, performing tasks of:

- The implementation of the Tourism Public Policies throughout Andalusia to help destinations to better plan and manage its local resources and the tourist activity.
- Identifying new collaboration opportunities for the Regional Ministry in the framework of European Cooperation Programmes.
- Building relations with European Union Institutions, International Organizations and stakeholders in the T&T sector.
- Research, analysis, and report of the T&T sector for the assessment in the planning and development of the Tourism Public Policies, working as a Policy Adviser for the Secretary-General for Tourism in Andalusia.

Currently, I work as a Freelance Tourism Consultant and Project Manager in:

- Planning, development, and management of Tourist Destinations; strategic and sustainability planning.
- Public Policies and management of Tourist ecosystems.
- Development of Tourism Products.
- European Cooperation Projects: search for collaboration opportunities and financing, preparation and follow-up of proposals, project management.
- Specialized training.
Ideas in Progress
Innovation
Social Innovation
Sustainable Development
Smart Cities
Interregional cooperation
INTERREG
Looking for partners in SUDOE area to develop a project for the forthcoming Call for proposals related to the Smart Management of protected areas.  
Londres, Reino Unido
1 year ago
Innovation
Social Innovation
Sustainable Development
Smart Cities
Sustainable Tourism
COSME
European Regional Development Fund (ERDF)
Horizon Europe
Interregional cooperation
INTERREG
Looking for partners interested in the implementation of projects related to Smart solutions for rural communities, using innovative solutions built on their local strength and opportunities
Londres, Reino Unido
1 year ago