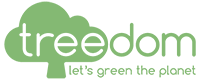 Treedom srl
Looking for Partnership
Looking for Extra EU Funds
About Me
Treedom is the only web platform in the world to allow its users to have someone plant a tree for them that they can then follow online.
Treedom engages individuals and companies in financing the planting of new trees. Treedom has introduced innovation and transparency in a sector like charity, still based on old-fashion concepts, transforming a good deed into a modern tool of communication and engagement.
Treedom's system guarantees the highest transparency and visibility for every initiative. On every user can finance the planting of trees, providing smallholder farmers around the world with direct social and economic benefits.
After being planted by a local farmer, each tree is geolocalized so that users can follow it through updates and pictures, always visible on the web and made shareable on social networks, giving a contribution to the reduction of CO2 emission.
Trees provide environmental and social benefits, fighting climate change and absorbing CO2 emissions. Thanks to Treedom, thousands of farmers in developing countries can plant fruit trees, guaranteeing food security and extra income.
Treedom is a bridge between local farmers and contributors, taking a fee for each tree planted. Giving less fortunate farmers the possibility to get ;
Up to date, we have planted trees in 16 reforestation projects involving farmers. We now have consumers that adopting offset CO2 emissions. 342 market leaders across several sectors have built forests with Treedom to reach goals in CSR, marketing and communication.
Main environmental contribution is the absorption by each tree of CO2, that considering the planted can be estimated in tons. Treedom positive effects on combating climate change are also its communication activities in raising awareness of consumers, companies and their employees and the general public on the issues of CO2 emission.
In fact, it offers different information tools, for example in Treedom's website there is a session dedicated to the calculation of CO2 emission each person create in its daily activities. The spread of Treedom message at the moment involve:
- users
- 342 businesses
- farmers
- followers on social network
Treedom has received several grant and awards, among which:
- €500,000 grant in 2013 from AECF. The AECF is part of the Alliance for Green Revolution in Africa (AGRA) and has been supported by governments (Australia, Canada, Denmark, The Netherlands, Sweden and the United Kingdom), and international financial institutions (Consultative Group to Assist the Poor and IFAD). Financed by the Bill & Melinda Gates, Rockefeller Foundations Form Alliance to Help Spur "Green Revolution" in Africa.
- Credit Suisse, "Private Innovative Circle 2016". Treedom was selected as one of the 10 pioneering growing company in the world . The Private Innovation Circle, instituted by Credit Suisse in 2014, showcases excellence in innovation, facilitates the exchange of ideas and fosters networking. Its aim is to build a thriving community of successful innovators and entrepreneurs who engage with and benefit from each other on a regular basis.
- Bcorp "Best for the World 2016" in the environment category. There are 1,800-plus businesses around the world that have undergone the B Impact Assessment and certified as B Corporations , as verified by the independent nonprofit B Lab* . The B Impact Assessment gives companies a score based on how they perform on metrics for impact on their communities, the environment, workers, and customers. Companies that scored in the top 10 percent of their focus and impact on the environment received the Bcorp "Best for the World 2016" prize in environment category
Keywords and matching areas: