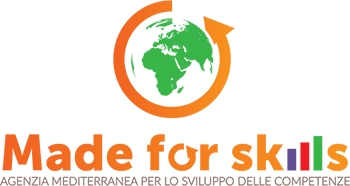 MADE FOR SKILLS S.r.l.
Looking for Partnership
About Me
Made for Skills is a EDU VET body dealing with training, guidance and project management ;Born as company specialized in the management of international mobility projects in the Education, Training and Youth fields, we offer a wide variety of services for training, educational and vocational guidance and social innovation through European programmes.
We are based in Termini Imerese, a city near Palermo, in Sicily, South of Italy.
Our main activities are focused on:
INTERNATIONAL MOBILITY and COOPERATION, because we believe that looking outside changes you inside;
EDUCATION and TRAINING in a lifelong learning perspective;
INNOVATION and COMMUNITY DEVELOPMENT;
VOCATIONAL GUIDANCE to sustain students and professionals development;
LOCAL DEVELOPMENT of the Imera Valley area and of Sicily Region.
Our team has extensive experience in the conception and implementation of projects at national and international level, and we offer high-quality consulting and project management ;
Keywords and matching areas:
Ideas in Progress
Education, Training Centre or School
Capacity Building
Human Resources
Citizenship
Education and Training
Higher Education
Erasmus+
Lifelong Learning
Creative Europe
Europe for Citizens
INTERREG
We are looking for other partners specialized in VET, Higher education, International cooperation, Social Innovation.
Via Arezzo, 5 - 90018 Termini Imerese PA, Italy
4 months ago