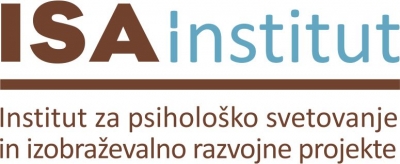 ISA institute
Looking for Partnership
About Me
Our main activities are trainings of professional and lay public, individual and group psychological counseling and psychotherapy.
The important focus of our work is primary prevention in fields of stress, psychological trauma, violence, mental health and other fields related to the personal ;We also focus on research and development of ongoing counseling programs, thus responding to the needs of society.
With a high quality of our services, we aim to achieve socially important objectives in the areas of our work.
SOME OF OUR PROGRAMS:
coping with stress and managing personal energy,
trainings for professionals to strengthen the competencies for violence prevention,
traumatic stress – working with victims of traumatic events,
how to communicate in cases of crisis situations in a workplace,
conflict management,
coping with loss,
personal and professional development,
developing resilience.
PRIMARY PREVENTION PROGRAMS:
CAP program – Child Assault Prevention program
"No More Bullying" CAP program
Strengthening Families Initiative
OUR CURRENT PROJECTS:
The challenges of intercultural coexistence (Co-funded by European Social Fund and Ministry of education, science and sport)

Project FIRST – Capacity Building for First Points of Contact for Victims of Domestic and Gender-based Violence (Co-funded by the Rights, Equality and Citizenship (REC) Programme of the European Union)

My piece for peace initiative
You can read more about our past projects on our website.
PARTNERS
We have many experiences working with different partners in Slovenia and abroad: various companies, government institutions and non-governmental organizations.

We like to work with different partners, learn from them and develop and manage good and socially responsible programs and project. We look forward to working with new partners who are:
- responsible
- professional
- experienced in the field they are working in
- reliable
- people and goal oriented
- dedicated
- ready to work hard and also enjoy in their work :)

The above stated characteristic we look for in our partners are also relevant for us and we are more than willing and able to bring them all to the table.
Keywords and matching areas:
Ideas in Progress
Asylum, Migration and Integration Fund (AMIF)
Creative Industries
We have been developing a project to apply to the European Commission call Asylum, Migration and Integration Fund - within Priority 1 - Raising awareness on migrant's contribution to EU societies (). The primary purpose of the project with a descriptive title "Strenghtening cultural competences to live together in diversity" is to contribute to raising awareness on migrants' contribution to EU ...
Ljubljana, Slovenia
2 years ago
Capacity Building
Social Affaires and Inclusion
Disadvantaged People
Gender Equality
Minority groups
Education and Training
European social fund (ESF)
Rights, Equality and Citizenship Programme
Project Management
International Project Management
In Europe and worldwide, we are witnessing many stories of children that, due to war and other political conflicts, do not have the freedom to enjoy a safe and carefree childhood, to experience a healthy personal development and well-being, enjoy a peaceful life with their families, to have freedom of learning. We have started this socially responsible initiative in Slovenia and it soon became ...
Ljubljana, Slovenia
3 years ago