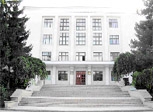 Institute of Chemistry of the Academy of Sciences of Moldova
Looking for Partnership
Looking for Extra EU Funds
About Me
The Institute of Chemistry of the Academy of Sciences of Moldova is professionally equipped, at European level, for synthesis of new compounds, pollution control, pollution assessment and research of environmental technologies - laboratory and field equipment. The Institute is permanently preoccupied to capitalize the results of completed research, through transfer to economical units/public authorities - partners in projects, as well as by a wide dissemination of the most important results. The dissemination is accomplished by specific tools: organizing workshops with interested parties, participation at national and international scientific events, publishing articles in scientific journals.
The activity profile of ICh ASM, always adapted to the internal and external environment market requirements, contains essentially research and services in the advanced and applicative research, mainly experimental activities focused on the development and implementation of advanced technologies for the needs of industry, agriculture, medicine, control, assessment, prevention and abatement of industrial pollution: pollution control through analyses of water, air, soil, waste, pollution assessment, environmental technologies (drinking water, industrial and municipal wastewater), consultancy and training, formation, skills evaluation in the above-mentioned areas, technical expertise, technical assistance for implementation.
Keywords and matching areas:
Ideas in Progress
Raw Materials
Eco-Innovation
Waste Management
Environmental protection
Innovation & Research
Nanotechnology and Nanosciences
Climate Sciences
Pollution
We, a scientific group from the Institute of Chemistry of the Academy of Sciences of Moldova (please, note that our country, the Republic of Moldova is an associate country in H2020), are interested to participe as a partner in a common Consortium within the following H2020 calls: 1. CE-SC5-06-2018 - RIA Raw materials: New technologies for the enhanced recovery of by-products ;CE-SC5-01-201 ...
Chisinau, Moldova
3 years ago
Environmental protection
Chemicals
Innovation & Research
Horizon2020
We, the scientific group of the Institute of Chemistry of the Academy of Sciences of Moldova (Moldova is an associated country), have a large experience in participating in different international projects, inclusive FP7 and H2020. We are looking for a leader of the Consortium, to be a part, for the call: CE-SC5-01-2018: Methods to remove hazardous substances and contaminants from secondary raw ma ...