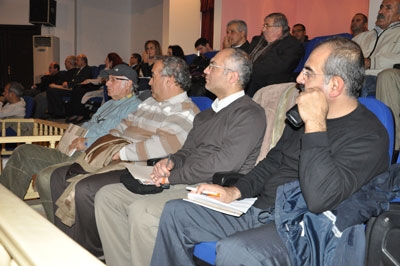 Hasan Goksel Ozdilek, Ph.D.
Looking for Partnership
Looking for Consultant
Looking for Extra EU Funds
About Me
I am involved in environmental science and engineering research. As a faculty member, I have a couple of ideas for young farmers, agricultural enterprises, farmers' unions, etc. I have a small farm ( hectare). I want to be a partner of a project on agricultural wastes, chicken farms, etc.
Keywords and matching areas:
Ideas in Progress
Low-Carbon Economy
Sustainable Development
Leftover material after agricultural harvesting is commonly incinerated in some countries. I would like to introduce a sustainable way to benefit from agricultural residues to convert them into natural soil conditioning/improvement materials. It is mulch. I saw the incineration takes place in Spain and in Turkey. I am quite sure that useless materials of sunflowers, corn, etc. can be useful when t ...
17100 Çanakkale Merkez/Çanakkale, Turkey
Created on 18 Mar 2019
Low-Carbon Economy
Raw Materials
In some countries people tend to burn useless materials after harvesting of products. This is not good for soil as well as for atmospheric carbon pollution. My partners can be NGO, farmers unions, universities, etc. I would like to purchase a chopping equipment to show farmers the efficiency of this and application of mulch to increase production of products. In some areas, we might reach up to 10 ...
17100 Çanakkale Merkez/Çanakkale, Turkey
Created on 28 Sep 2018
Favourite Calls
Aquaculture
Bioenergy
Natural Resources
Environment
Sustainable Development
Environmental protection
Water Resource Management
Climate Sciences
Pollution
THEMATIC AREA: Agro-Food value chain, Farming systems, Management of water TOPIC: Transnational call funded by Participating States TYPE OF ACTION: RIA Research and Innovation action TOTAL INDICATIVE AMOUNT ALLOCATED TO THIS CALL: EUR 34.9 million OPENING DATE: 17 December 2018 DEADLINE; Stage 1 Pre-proposals – 21st February, 2019 (17:00h CET) Stage 2 Full proposa ...
Deadline Sep 4, 2019
- 131 days

Interreg 2 Seas Mers Zeeën
Social Innovation
Low-Carbon Technology
Low-Carbon Economy
Natural Resources
Sustainable Development
Interregional cooperation
Climate Sciences
INTERREG
Pollution
1. Introduction The European Regional Development Fund (ERDF) aims to strengthen economic and social cohesion in the European Union by correcting imbalances between its regions. The European Territorial Cooperation (ETC) strand is central to the construction of a common European space, and a cornerstone of European integration. It has clear European added value: helping to ensure that borders a ...
Deadline Oct 31, 2019
- 188 days