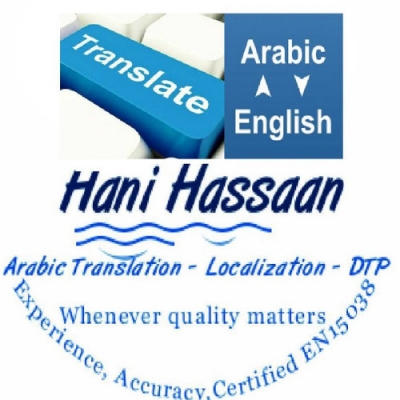 Hani Hassaan
Looking for Partnership
Looking for Extra EU Funds
About Me
My name is Hani Zeid Hassaan, I'm a native Arab and well experienced practical translator with more than 13 years of practical translation experience mostly in the technical- automotive, engineering, gaming, marketing and legal translations.
I use formal and modern standard Arabic language which is used by all the Arabic target audiences.

*Education:
I have a Diploma in the applied language with a grade of Good.
I also have in law (English <> Arabic study).
I'm an expert in technical manuals, automotive / cars & trucks, legal, games, E-commerce, General translations from English <>Arabic.
I can help with the DTP process, too.
Credentials:
1- I am a certified professional translator by Arab Professional Translators Network (my number is 30244 ).
am also I 2- I was certified Translator according to EN 15038 norm from Austrian Standards Institution - Vienna / Austria (2013).
3-Accredited by the Linguists and Translators Association in Cairo (2016).
4- Main localizer for all IT products, the website, and its updates for AVAST.
Please view my CV and scanned copies of my credentials to know more about me:

I worked for Microsoft, IBM, Bwin,FIFA, IBM, and can provide quality translation for Technical, Legal and Education solutions.
Keywords and matching areas:
Ideas in Progress
Technical Writing
Translation
Arabic
Fellowship
A dedicated, meticulous and highly motivated certified translator with 13 years' experience in English <> Arabic translation, editing, voiceover and transcription, has in law and Diploma in Applied Languages with grade Good. Delivers perfect translation enabling clients to reach Arabic audiences for their products, services and websites, and achieve marketing goals. Strong knowledge of all major ...
İstanbul, Turkey
6 months ago