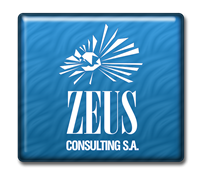 ZEUS CONSULTING SA
Looking for Partnership
About Me
ZEUS CONSULTING, established in 1992, is a leading service and consulting company operating in the IT and Management sector. Located in Greece with offices in the European Union, the Balkans and Turkey, the company has the size, the know-how, the technology and the infrastructures to meet all the challenges providing total quality solutions to private and public research and commercial developments. Clients and Partners from SMEs to giant Companies and from small municipalities to international organizations.
The Information Technologies constitute the peak of ZEUS CONSULTING knowledge and expertise. The company covers the following sectors: e-Governance, Mobile Computing, Systems of Knowledge Management, Platforms for e-work and e-learning, Cloud computing, Service-Oriented Architectures, Multimedia applications, e-Commerce, e-government, Cyber-security, and Safety of ICT Systems.
Keywords and matching areas:
Ideas in Progress
Entrepreneurship and SMEs
Technology Transfer
IT Applications
Higher Education
Horizon2020
Internet of Things (IoT)
Relevant H2020 Topic: ICT-56-2020 NGIoTs Solution: Via the Next Generation Internet of Things framework, NGIoTs Solution  includes applications, devices and systems using 5G (where available), cyber-security, distributed computing, artificial intelligence (AI), Augmented Reality and tactile internet to ameliorate, to facilitate, to improve the school days of pupils and ; Provisioned Work ...
Athina, Greece
5 months ago