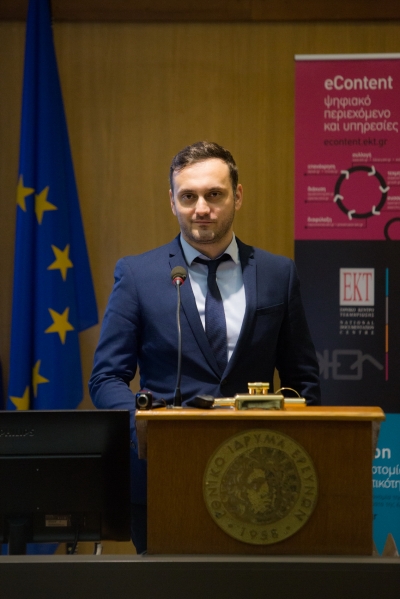 National Documentation Centre - Greece
Rural Development
Horizon Europe
About Me
I am the National Contact Point for ICT and FET in Horizon 2020 for Greece and Project Manager in Various EU funded Projects at the National Documentation Center / National Hellenic Research Foundation. I am also a member of the ICT sector group of the Enterprise Europe Network acting as an Innovation and Technology Advisor.
I hold an MSc degree in Industrial Management and Technology at the interdepartmental MSc program of the Polytechnic School of Athens and the University of Piraeus. My first degree was in Agricultural Engineering.
I have versatile knowledge in the SME sector, the natural environment with expertise in Geographic Information Systems, DSS and water management, I also hold specialized knowledge of computer use and excellent knowledge of many software related to my broad field of expertise.

Being sociable and having knowledge about various subjects, scientific and other, combined with my enthusiasm and my analytical skills, helped me coordinate work teams with ease, get in the source of each task under analysis and elicit productive results.
Through my career as a Business consultant I gained experience in the access-to-finance area, Innovation management, TechnologyTransfer, Business planning and Marketing in a regional and international environment.
The monitoring of international trends in my field and my continuous training brings in ideas that are innovative for any market. I am also very productive in Data analysis.

Specialties: Funding opportunities-Subsidies, HORIZON 2020, Technology Transfer, Digital Marketing, Public Speaking, Innovation Management, GIS, DSS, Environmental Management, Hydrology, Agricultural Economics, Statistics, Wastewater Engineering, Waste Management, RETScreen, Mikeshee, Energy Management Systems.