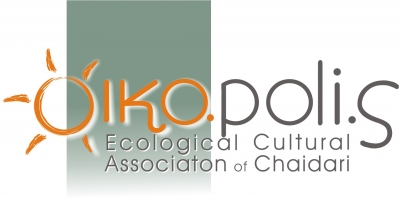 OIKOLOGIKOS POLITISTIKOS SYLLOGOS CHAIDARIOU
Looking for Partnership
Looking for Extra EU Funds
About Me
is an association with interests in environmental and cultural initiatives and activities. A significant number of Oikopolis members ( about 70 people) are involved in the accentuation and promotion of local, mainly, cultural and environmental issues. Also members ( about 40- 50 people) participate in a number of volunteer activities aiming at the protection and conservation of natural life and as well as at the preservation and accentuation of our cultural heritage.
According to its memorandum, has the following objectives:
• Protecting the natural environment in its broadest sense.
• Promoting activities related to culture in the broadest sense.
• Participating in community activities related to unemployment, lifelong learning, disability, solidarity, etc.
• Encouraging actions to improve quality of life.
The association of Oikopolis has as its main aim the contribution of the local community to sustainable development and the Greek society's synchronization with the broader European
Community, by offering technical assistance in several fields such as ICT, communication and partnership between public institutions, as well as civil society, strategic planning, environment, etc.
Since its establishment in 2007, Oikopolis has organized more than 100 training sessions, activities, workshops and other public interest events on education, Life-long learning, European integration, participation in the decision making and congenital issues.
The target group our organization addresses to adults, independently of age, retired people as well as people with disabilities, even young people and unemployed people. is a group of versatile people with a different educational background (such as arts, singers, engineering, exact sciences, psychology, law, school teaching).
Also, among members are a lot of teachers ( about 20 teachers) who are involved in organizing workshops for adults and pupils especially in the field of ICT, languages, civil protection and are engaged in environmental and cultural activities. Our organization believes that Life-long learning is necessary in order to become or remain an active citizen, as well as to obtain a new qualification and find solutions for confronting unemployment. We also aim to (and wish for) the "revival" of the hope of our unemployed members.
has experience in training of adults and young people, as well, voluntary. The organization has been involved in training projects in the field of environmental and cultural education in groups of adults and schools like:
Cultural activities to accentuate the cultural heritage of our region and other archaeological sites of Athens.
Seminars for adult education in ICT.
Actions for citizens' activation (such as poetry, music, foreign languages).
Seminars and activities on climate change and civil protection.
Some of our members, about 40 people, participated in training for First Aids and 15 members received the ERC qualification-BLS.
A. 1. From implemented a Grundtvig Senior Volunteering with the theme: «Seniors as volunteers in communities (SAVIC)». During these two years the project created opportunities for lifelong learning and active community involvement for elder people, through voluntary actions in three domains: environment projects, cultural awareness and use of new technologies (ICT).
2. «Developing Skills in Dealing with Emergencies: Civil protection for people ».Coordinator: and Creating a Network of citizens for Civil Protection.
3. Cultural Awareness Supporting Training for Innovation
Β. Participation of OIKOPOLIS members at the 7th International Danube Delta Meeting of Teachers and Specialists in Ecology and Environmental Education.
C. Training for adults (Erasmus KA1) with the theme : "Environmental Education for trainers of adults".
D. International webinar with various issues as About Democracy, Civil protection, Industrial accidents, cultural awareness.
E. School contest for Litterature ( 2014-15, 2015-16, 2016-17, 2017-18, 2018-19, 2019-20).
On national and European Level cooperates with a lot of associations as:
Association Europeenne des Enseignants (ΑΕDE), Nature Friends International/ NFI Italy: Centre de Découverte du Monde
With teachers of 1st and 2nd Level Education and Innovative Actions' Offices organizing a lot of activities for cultural, environment and also on the social level.
Also in Greece, we cooperate with which is an Environmental and Cultural association in Attica, established in April 2013, WWF and other associations in common activities.
Some of its aims are: spreading out love and respect of nature, especially mountains and seas as well as the cultural heritage and the residential environment;promoting hiking, mountaineering, sports, and sustainable tourism; participating in social endeavours for the protection of the natural and cultural environment; etc
Keywords and matching areas:
Ideas in Progress
Environmental protection
Development and Cooperation
of Chaidari, the coordinating organization for the two-years (2017-2019) European ERASMUS+ KA2 programme, dealing with adult education, under the title: «Developing Skills in Dealing with Emergencies: Civil protection for people, CPP», 2017‐1‐EL01‐KA204‐036189 and the participating organizations: Technical University of Georgia, Training2000 (Italy), Nucleo di Protezione Civile Falchi D ...
CHAIDARI ATTICI 12461
1 month ago