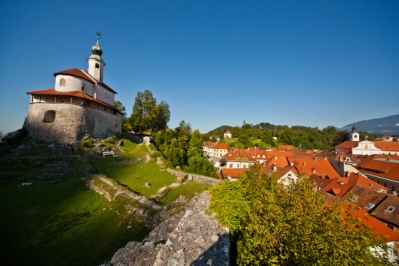 Municipality of Kamnik
Looking for Partnership
About Me
Kamnik is the cultural and administrative centre of its municipality, occupying an area of 266 km2 and home to approximately inhabitants. Due to its location on the junction between the plains of the Gorenjska region and the Celje Basin, not far from the Slovene capital, with major transport, energy and other infrastructural pathways connecting eastern and western parts of the country via its territory or nearby, the Municipality of Kamnik possesses a unique potential for development. One of the main advantages representing key development opportunities and the basis for comprehensive and sustainable development of the local community lies in the municipality's close proximity to the Kamnik-Savinja Alps. The latter supply a whole array of possibilities to enjoy an active vacation or recreation, as well as provide many natural resources such as sufficient amount of clean drinking water and vast wooded areas. Another precious jewel of the region is Velika Planina, which is the largest highland pasture in Slovenia with over a hundred uniquely-shaped herdsman huts. It is also a rich cultural and historical heritage with a Romanesque chapel and renovated defence tower at Mali grad castle, the Renaissance-baroque Zaprice Manor, the open-air museum Skansen with a collection of granaries from the Tuhinj Valley, the birth house of the great Slovene general, patriot and poet Rudolf Maister, etc.
In addition to ensuring efficient use of existing natural and cultural resources, Kamnik and its surroundings also offer numerous other development opportunities to boost competitiveness, stimulate economic growth and improve the quality of life:
favourable conditions for the development of organic agriculture with emphasis on local self-sufficiency and the cultivation of old indigenous crop varieties (meadow orchards found in Kamnik's rural areas are of world-class quality);
the structure of education, especially that of the young population, represents an enormous potential for creating new, high added value jobs (social entrepreneurship, start-up companies, innovative business solutions, etc.), as well as a number of measures aimed at improving the responsiveness of education to current labour market demands and to enhance the entrepreneurial skills of the local population;
a number of degraded industrial areas suitable for revitalization;
good accessibility of the area and proximity to the capital city provide favourable conditions for the promotion of cycling and walking between particular urban centres as well as the potential to upgrade cycling and hiking infrastructure, mountain and learning trails, and to promote alternative forms of transportation and non-motorized mobility;
the richness of folk culture (pastoralism, milling, clothing heritage, handicrafts);
a wide range of sports facilities (golf courses, a football and athletic stadium, swimming pool, tennis and volleyball courts, an archery range);
broadly recognized tourist destinations/products (Volčji Potok Arboretum, the Kamnik Bistrica river valley, Terme Snovik thermal spa, Tunjice Natural Healing Resort, a selection of local delicacies under the recognized brand Tastes of Kamnik ...);
an effective and efficient system of implementing various tasks related to the integrated management of natural and other disasters (preparedness, response, mitigation) based on voluntary activity which had led the Municipality of Kamnik to become the first Slovene municipality to join UNISDR's Making Cities Resilient Campaign;
the efforts of the local community and its many humanitarian organizations to improve the social inclusion of disadvantaged groups (unemployed, the elderly, young, people with physical disabilities, persons with developmental disorders) and to provide equal opportunities for our citizens;
a number of social innovations ( a care model for the elderly based on voluntary youth work, and a consulting office that provides the elderly and disabled with free legal and medical counselling and other useful information, both of which have been awarded several national awards, a day centre for people with mental health problems, a soup kitchen for underprivileged citizens, accommodations for the homeless).
Keywords and matching areas:
Ideas in Progress
Capacity Building
Energy Efficiency
Natural Resources
Waste Management
Sustainable Development
Environmental protection
International Cooperation
Cultural heritage
Cross-border cooperation
Transnational cooperation
Please consider the possibility of cooperation with The Municipality of Kamnik, either in designing of the project proposals in the field of social innovations or other fields, addressed by the current European programmes (innovative entrepreneurship, protection and improvement of the enviroment, transport, sustainable growth, low carbon society, protection and promotion of natural and cultural re...
Kamnik, Slovenia
5 years ago