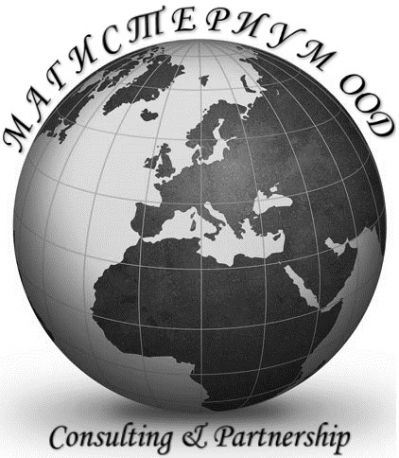 About Me
MAGISTERIUM Ltd has the pleasure of maintaining a core of highly professional experts with managerial and administrative long-term experience gained in central and local administrations and/or in leading companies. Our experts usually work in small, dynamic teams formed particularly to address the technical and expert knowledge needed to perform the assigned tasks. Because of that, the company is able to propose an adequate to the needs services and to reach our clients expectations.
The company has created with the conviction and philosophy that each of our Beneficiaries is also our partner to whom we deal with professionalism and honesty.
The implementation of each our contract starts with awareness of problems and clarification of expectations, thus we manage to plan an adequate approach and measures that satisfy or even exceed the expectations of our Beneficiaries.
During the last year, we had the pleasure and privilege to achieve more than 15 certificates from our Employers issued for successful implemented services. These services ware related to project proposals preparation and management, preparation of regional and municipal documents, development of dispersion models of atmospheric air pollution, Municipal Environment protection programs, Waste management programs, technical specifications, risk assessments, financial consultations, preparation of Municipality Program for air protection and many others.
To improve the quality of our services since 2016 we have successfully implemented ISO2009:2008 standard.
Keywords and matching areas:
Ideas in Progress
Capacity Building
Social Innovation
Social and Welfare
Mitigating the problem of youth employment requires the implementation of a complex and innovative approach with combination of innovative measures providing not only the opportunity to start working but also to attract the attention and interest of the young people as well as change an youth daily routine of state of apathy to active state and empathy. The expected outputs are establishing com ...
Sofia, Bulgaria
Created on 24 Aug 2017
Favourite Calls
Social Innovation
Social Affaires and Inclusion
Citizenship
Education and Training
Higher Education
Erasmus+
Youth Exchanges
Social and Welfare
Fellowship
1. INTRODUCTION – BACKGROUND The European Union is committed to supporting Member States in fostering social inclusion and in building cohesive societies. Article 2 of the Treaty on European Union states that 'The Union is founded on the values of respect for human dignity, freedom, democracy, equality, the rule of law and respect for human rights, including the rights of persons belonging t ...
Deadline Feb 26, 2019
- 71 days
Innovation
Education and Training
Higher Education
Erasmus+
Youth Exchanges
Digital Culture
Research
Digital Society
Fellowship
What is it for:  Sector Skills Alliances are transnational projects which should achieve the following objectives: Identification of existing and emerging skills needs for professions in specific sectors, Strengthening the exchange of knowledge and practice between education and training institutions and the labour market, Modernising VET by adapting provision to skills needs, Integ ...
Deadline Feb 28, 2019
- 73 days
Technology Transfer
Education and Training
Higher Education
Erasmus+
Youth Exchanges
Youth Workers
1. Introduction This document aims at helping potential applicants find relevant/useful information for the completion of their application for Erasmus+ Knowledge Alliance.  It is provided for information purposes only and is not intended to replace consultation of any applicable legal sources. The EACEA cannot be held responsible for the use made of this guidance document.  Information that is ...
Deadline Feb 28, 2019
- 73 days