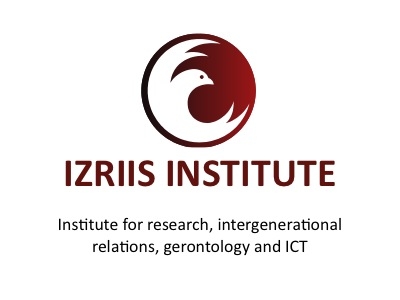 IZRIIS INSTITUTE (Zavod IZRIIS)
Looking for Partnership
Looking for Consultant
Looking for Extra EU Funds
About Me
IZRIIS Institute - research, education, public health, intergenerational relations, gerontology and ICT - scientific and expert institution, interdisciplinary work in the fields of sociology, psychology, medical sciences, supported by research, education and business
IZRIIS International project group working on ICT supported services for Alzheimer and Dementia issues with international consortium.
Projects EU: AAL JP - Healthy aging at home (NITICS, IONIS, INCARE); OASIS - Intergenerational centers; "Choose a healthy life!" - Addiction prevention and health promotion.
FOLLOWING CALLS: * INTERREG - SOCIAL INNOVATION; H2020 - Health, social innovation, ICT
LOOKING FOR PARTNERS (Austria, Germany, Bulgaria, Croatia) for project idea.
LOOKING TO JOIN AS PARTNER - Interreg and H2020
Keywords and matching areas:
Ideas in Progress
Innovation
Social Innovation
Environmental protection
E-Health
Erasmus+
Horizon Europe
INTERREG
Developing innovative social services able to better meet social needs and to provide services in general interest fostering innovation to raise healthy life expectancy enabling EU citizens to lead healthy, active, and independent lives while ageing improving the sustainability and efficiency of social and health care systems; boosting and improving the competitiveness of the markets ...
Beljaška ulica, 1000 Ljubljana, Slovenia
2 years ago
Start Up
Social Innovation
Smart Cities
E-Health
Erasmus+
Cohesion Policy
Horizon Europe
INTERREG
EEA and Norway Grants
➢ Countries: Austria, Germany, Bulgaria, Croatia, Serbia ➢ Sector: partners from research and development oriented companies and public organisations (eg. National health agencies or centres) and Municipalities. ➢ Level of authority for public sector: national agencies and ministries, regional and local authorities ➢ personnel experience or/and field: (1) psychology, adult education ...
Beljaška ulica, 1000 Ljubljana, Slovenia
2 years ago