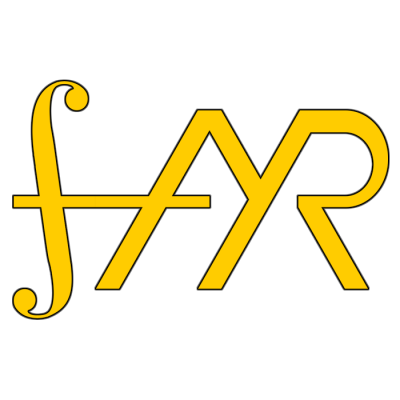 FAYR ecosystem
Looking for Partnership
Looking for Consultant
Looking for Extra EU Funds
About Me
We're an international startup with own Ecosystem of projects (FAYR Ecosystem), with a HQ in the Republic of Užupis (Vilnius), Lithuania, creating pioneering innovations at the intersection of Technologies with Culture, Music, Art, Education, Urban environment and other areas.
Some of the succesfully launched and running Flagship Projects:

- Musical Blockchain™, world's first Creative approach to Blockchain+AI – first true computer AI-Composer with no analogues in the world yet, with a new, innovative way for data-inspired psychology-based melodic sequence composition, sound generation, data-driven digital art and visuals generation, new fundamentals for computer-based Decentralized Improvisation™.
- Ongoing research in a psychology/audio therapy fields utilizing Musical Blockchain solution and additional in-house developed AI+hardware solutions.
- Sound-Art Installation engine with analytical module "Musical Blockchain for Cities+IoT".
- Sound changes the City / Sound changes the Planet Global Initiative – Urban/City Development, Cultural, Educational and Social Responsibility/Inclusion initiative, launched in 4 countries already.
- Special industrial-grade equipment CitySenseBox™ and PlanetSenseBox™ – in-house developed families of the mobile and stationary IoT devices for improved City measurements.
- City Symphonies™ – highly anticipated unique musical shows (performed live with local musicians), composed from the City-data of different districts using world's first true AI composer Musical Blockchain.
City Symphonies are a permanently evolving Audio Snapshot of a City's current state. These musical shows are result of the Human-Computer Interaction, created exclusively for each Sound changes the City / Sound changes the Planet Global Initiative event worldwide.
- Digital/Culture Center – is a mobile space and a community, dedicated to the popularization of the Digital Art, Art+Tech, Culture+Tech and a new wave of the future Digital Artists, collectors and fans. It is created for a worldwide mobile Hub Space and organizing Events, Meetings, Ideas exchange, Educational activities – Cultural/Blockchain education, Networking and more.
Digital/Culture Center is promoting Lithuania as a main global Digital/Crypto Art and Culture hub of the Baltics region.
- GalleryBox™ – is a special complex plug-n-play Digital Art hardware and software (platform) whitebox solution for the physical Galleries from the Digital/Culture Center and CryptoArt Hub Labs. It is created for the popularization of the Digital Art, curated digital artwork collections showcase, popularization of the Blockchain-enabled Art galleries and enabling additional revenue streams for the physical Galleries in the modern age.
- Educational initiatives under "Culture/Innovations" umbrella – professional orientation for a target groups of 10+.
We're using Technological, Mixed-media and Musical Blockchain-based solutions as a motivating example to involve and inspire youth, explain the process and let "try-it-by-yourself" in a special workshops.
- Crowded_Place – Global Cultural exchange platform for creative talents.
We're currently open for business/investment proposals.
Please, contact our team with all your inquiries.
Keywords and matching areas:
Ideas in Progress
Innovation
Start Up
Urban Management
Education and Training
Creative Industries
Music
Urban Innovative Actions
Psychology
Blockchain
Artificial Intelligence
What is the Sound changes the Planet Global Initiative? We propose Sound and its Cultural impact as a unique medium for a social and global change. This initiative is revealing how ambient sound design can impact the urban environment. With the
Užupio g. 4, Vilnius 01200, Lithuania
2 years ago