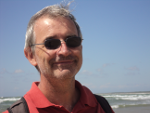 Christophe Parot
Looking for Partnership
Looking for Extra EU Funds
About Me
Présentation du réseau Ventureo.
Le monde de demain est un monde d'abondance ou l'énergie est fourni par les énergies renouvelables, ou l'agriculture est respectueuse de l'environnement, ou la démocratie s'exprime au quotidien.
Chacun peut y étudier la matière de son choix et toucher un revenu de base qui lui permet d'étudier en toute quiétude. Les hommes et les femmes ont appris a communiquer de manière non-violente et ils sont lucides sur leur besoins. La technologie est au service des plus faibles, le jeu et la joie emplissent les rues des cités.
Pour participer au développement de cette société, les associations porteuses d'une vision et d'un projet ont besoin d'une monnaie forte et équitable. C'est pourquoi Ventureo favorise la coopération entre les organisations, démultiplie les forces de chacun en offrant une plateforme qui fournit visibilité, services, conseils et moyens d'action.
Adhérer au réseau Ventureo vous apportera de nouveaux outils plus efficaces pour remplir vos missions et vous mettra en relation avec d'autres organisations dont les travaux sont complémentaires aux vôtres pour que chacun puisse s'entraider et surmonter les difficultés rencontrées par les plus démunis.
Si vous êtes un entrepreneur ou une association à but non lucratif, vous pouvez obtenir 100 000 Ventureo pour développer votre projet. C'est un revenu de base inconditionnel pour les organisations.
Keywords and matching areas:
Ideas in Progress
Technology Transfer
Climate Sciences
I am looking for tree ambassadors in different European cities. We are using the EverGreencoin wallet to collect funds to plant 2 million trees by 2020. A tree ambassadors will promote the project in his/her city and help the group to design new marketing tools.
74000 Annecy
Created on 28 Sep 2018
Accelerators
Education and Training
Presentation of the Ventureo network. The world of tomorrow is a world of plenty where energy is provided by renewable energies, where agriculture is respectful of the environment, and democracy is expressed daily. Everyone can study the subject of their choice and receive a basic income that allows them to study in peace. Men and women have learned to communicate in a non-violent way and th ...
74000 Annecy
Created on 23 Aug 2018
Accelerators
Education and Training
The Ventureo network is enhancing synergies between nonprofits and socially responsible enterprises. You have designed a specific cryptocurrency for nonprofits. When you register on the wiki of the network, you are entitittle to a 100,000 Ventureo ; We teach nonprofits how to use cryptocurrencies to become more powerful.
74000 Annecy
Created on 23 Aug 2018