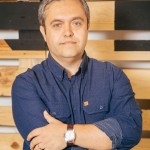 ANTONIO GARCIA ROMERO
Looking for Partnership
Looking for Extra EU Funds
About Me
I am an Assistant Professor at the Area of Operations & Decision Sciences (IE Business School). My professional background is a blend of academic activity, advisory positions at public administration and, recently, entrepreneurship. I have over 20 years of experience in Studies Science, Technology and Innovation. My research interests are Societal returns from health research and Healthcare innovation.
I am currently involved in a project aimed to analyze the innovation processes in hospitals and healthcare ;
Keywords and matching areas:
Ideas in Progress
Innovation
Technology Transfer
Health Care
Innovation & Research
Hospitals are organizations mainly focused on providing healthcare to their patients. However, this function coexists with research and teaching future doctors and nurses. This triple mission comprises knowledge creation, sharing, diffusion, and use, and therefore innovation is constant at different levels of health care providing. Additionally, some hospitals have shown the ability to transfer...
Madrid, España
4 years ago
Innovation
Technology Transfer
Innovation & Research
I would like to join initiatives in the field of Science of Science Policy, mainly those focused on the health sector.
Madrid, España
4 years ago