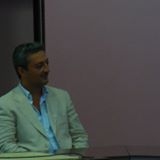 Dimitrios Anastasopoulos
Entrepreneurship and SMEs
Adult Learning
About Me
I have experience in writing, as well as implementing proposals in ERASMUS+ and INTERREG projects. My main target is to work also as an intermediary with local organisations in my area (local and prefectural authorities and NGOs) East Macedonia and Thrace - ;
Unemployment. I work since 2003 in cooperation with NGOs of my area, Developmental company as well as Municipal organisations etc, in projects for unemployed individuals especially those from social groups that face social exclusion . Since now I have worked with people with disabilities, in the autistic spectrum, special cultural groups such as ROMA, ex-prisoners and so on. I'm counting thousand hours of vocational orientation counseling.
Social inclusion. In cooperation with local NGOs , we try to build a netword that covers all kinds of disabilities and promote the issues that people with disabilities and autistic people encounter in every day life.
Ideas in Progress
Social Affaires and Inclusion
Disadvantaged People
Erasmus+
Europe for Citizens
I am a member of the Board in the NGO which is an NGO with members individuals in the Autistic Spectrum and their families. We have several ideas in promoting know-how in various fields concerning autism spectrum disorders and we are searching for similar organisations to implement projects of transferring- exchange knowledge in various fields such as families of autistic people empowerment, impr ...
Komotini 691 00, Greece
11 months ago