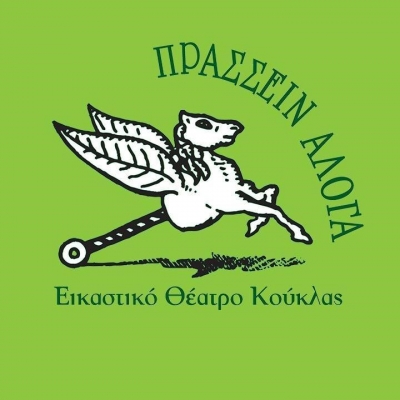 VISUAL PUPPET THEATER PRASIN ALOGA
Looking for Partnership
Looking for Extra EU Funds
About Me
VISUAL PUPPET THEATER PRASIN ALOGA consistent in the Art of Puppet Theater since 1997, presents an original performance combining an on-stage action of actor and puppet, theater and dance, operating through the language of image, symbol and archetypes. With distinctive artistic and educational performances, the company proposes this unique theatrical experience for schools, Municipalities, and festivals aiming at children and adults alike.
The company also presents art-educational program that provide a free training and support in puppet theatre for school teachers. This program attempts to revitalize and innovate learning in schools.
Prasin Aloga envisions a future in education that embraces culture in its entirety and a school that is free, democratic, innovative and participatory for teachers and students alike who will be able to address the issues of today and create a better future.
The goals of PRASIN ALOGA are to introduce puppetry as a means for education and art-therapy tools:
Help people become more creative and positive by using puppets in the educational procedure of both children and adults
To create educational method using puppets in school making the learning process more enjoyable, effective and interactive
Utilize puppets as part of the healing process for people experiencing severe stress and / or depression
Help refugees and people with disabilities express themselves through storytelling helping them reintegrate to society
Perform and have workshops for mothers and their children in prisons, as well as juvenile detention centers
To support people who are in rehab centers, the elderly and people suffering from mental disorders
To introduce young people to a different way of expression and art
To try to expand the way of thinking of our society
and finally, to remind everyone of the enjoyment of playing.
Every year PRASIN ALOGA organizes a pan-Hellenic student competition Kouklopaizoume (Puppet-Play). Through free training videos and reading material () educators and pupils are motivated to tell their own stories by creating their own handmade puppets and puppetry performance. Seven of the most innovative, artistic and inspiring performances are awarded. Moreover, "Kouklopaizoume connects us with the museums" is a specialization of the educational and digital program "Kouklopaizoume". The aim of the program is to mobilize more audiences to get in touch with the exhibits of a museum by telling their own stories (telling stories) about the exhibits of the museum with the dolls made by the visitors themselves. The instrumen to achieve it is either online or live live puppet workshops through "Kouklopaizoume".
The workshops will be an educational tool for the museum public in order to get to know in depth the exhibits, the history and the importance of the exhibition.
Through our twenty years of experience with workshops that we have offered to vulnerable groups, teachers and the public, we have experienced the benefits of the theatrical puppet at all ages. Through it there is an occasion for play while it contains many arts and through our creative actions the participants have the opportunity to express themselves theatrically and visually while at the same time they are projecting themselves on the doll, their thoughts and feelings in an "instrument" that is at the same time enjoyable and deep.
Objectives of the organisation:
Puppet Horses" Puppet Art Theater held online workshops and training seminars for teachers and students throughout Greece, thus offering a new interactive learning method but also a creative activity that develops teamwork and innovative thinking through the program and competition " ".
The directions we want to take are the following:
Educational work:
-Educating the public (teachers, parents, leaders of vulnerable groups) with the doll as a means of creation and expression
-Collaboration with puppet institutions / museums for online and live educational programs for children and adults through which the public knows better and tells its own story about the exhibits
-Creating a video with a doll for social issues, approaching the subject with a playful medium.
Artwork:
- Puppet show, a different and innovative approach to theater and art with an actor and a puppet for children and adults.
- The organization's place in Athens is designed to host shows for small audience groups and workshops for children and adults. There is also a small exhibition of props and puppets from some of their past productions.
PRASIN ALOGA has been subsidized by the Ministry of Culture six (6) times for their theatrical productions and once (1) for their social work. They have made fifteen (15) of their own productions in various theaters in Greece, such as the National Theater and the Onassis Foundation. They have participated in international festivals and have received several awards.
PRASIN ALOGA over the years has partnered with professionals from diverse educational backgrounds and disciplines and thus constitutes a rich mix of artists, actors/actresses, musicians, educators, art educators in the field of puppet theatre etc. In addition to our core team, PRASIN ALOGA has a wide network of international experts as well as partnerships with first-class educational institutions with expertise in various fields.
Keywords and matching areas: