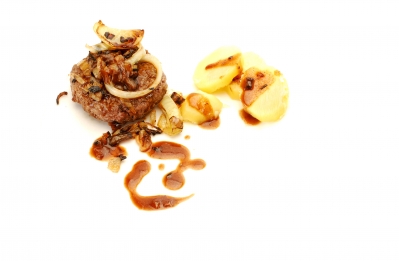 Small World Publishing / Fricot Editions
Looking for Partnership
Looking for Extra EU Funds
About Me
Since the late 1990s we have been engaged in research on European indigenous food produce, traditional food culture and sustainable food systems, for the purpose of generating multimedia in the form of apps, books, booklets, films, podcasts and web magazines. We call our research work the Fricot Project. This is a quest to find the origins of traditional recipes that have evolved through generations, and the traditional foods that have remained popular. Their re-emergence in the kitchens of imaginary bakers and visionary chefs is we believe the start of a new food revolution that has roots in sustainable food security and the protection of localised employment. For several years we have been collaborating with like-minded people to form consortia with the collective expertise to draw down funds from the EU's various programmes and from other sources. Now we are seeking partners who understand the need to put all the research on sustainable food systems and indigenous food cultures into practical use. For that we have proposed a model we hope can be replicated throughout every region of Europe. We have given this event an generic title -The Sustainable Food Festival. We expect it will become an annual international co-event held in rural and semi-urban regions across Europe. Designed to establish sustainable food security as an essential fabric of society, it will highlight indigenous food produce, specifically geographic specific products, and traditional food cultures by proposing the need to introduce sustainable food systems including local short food-chain programmes at food fairs and festivals, food street markets and food events. There will be several 'living laboratory' SFF events in 2016 that will produce data to be used in proposals under the February round of H2020 SFS.
Keywords and matching areas:
Ideas in Progress
Young Farmers
Social Farming
Entrepreneurship and SMEs
Innovation
Human Resources
Social Affaires and Inclusion
Cultural heritage
Festivals
Film and Media
Literature
Traditional foods are founded on culture and migration, place and space, and on the ability of communities to maintain their relationship with indigenous produce, artisanal products and the traditional recipes passed down the generations. We have been collecting data on local food produce and value-added food products since the late 1990s while building up a huge database of traditional recipes ...
Letterkenny, Co. Donegal, Ireland
3 years ago
Rural Development
Sustainable Development
Regional Policy
Innovation & Research
Sustainable Tourism
European social fund (ESF)
Horizon2020
Interregional cooperation
Crowdfunding
Sociology and Economic Research
Designed to establish sustainable food security as an essential fabric of society, we propose to launch events, fairs, festivals and tours to promote indigenous food produce, artisanal food products and traditional food and craft work cultures starting in 2018. We are seeking partners to engage with us in this programme and to seek funding from the appropriate calls under the various EU platfor ...
Letterkenny, Co. Donegal, Ireland
3 years ago
Fisheries and Food
Agriculture
Biodiversity
Forest Resources
Genetic Resources
Plant Health
Cultural heritage
Creative Europe
Horizon2020
Marketing
We are looking for partners in all sectors who have practical experience of sustainable food systems and an understanding of the potential of sustainable food security, especially in the peripheral areas of Europe. See our other ideas. [Documents to follow.]