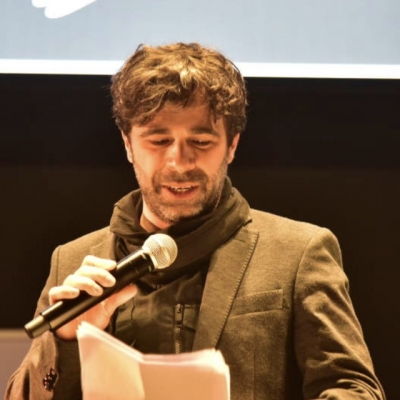 Samuel Sebastian
Looking for Partnership
Looking for Extra EU Funds
About Me
In short: Filmmaker. Feminist. Traveler. Writer. Illusionist. All in one.
In depth:
Samuel Sebastian is a Spanish filmmaker an playwrighter, son of the painter Ester Rodríguez Ro. History of Art graduate, he got the Extraordinary Award Bachelor and studied a Screenplay Master in the UIMP– Valencia (Spain). He is currently working on his thesis about Independent Cinema Productions in the Digital Era.
His work as a filmmaker began in 2005 with the experimental long feature film First silence (El primer silencio, 2006). Since then, he alternates fiction films with social documentaries, videocreations and videoclips. After First Silence, he has made two more long features: The frame of dead (La pausa dels morts, 2011) and The long night of imagination (La larga noche de la imaginación, 2016). Currently he is working in his next two feature projects: Dakhma and Dystopia. As a director, his films have been screened in festivals from all around the ;You can find his profile at IMDb and some bio information at Wikipedia.
One of his most beloved projects, the RIP, takes place in Western Balkans.
He has worked in more than 40 productions as a writer, producer, director or editor, in countries such as Morocco, Syria, United States, France, Switzerland, Uganda, Spain, UK, Guinea, Panama, Cuba or Azerbaijan. Some of these films and documentaries are Over Azerbaijan's sky (2012, Sagrario Perpiñán), Jeunes et prêts à inventer le futur (2012, Nasser Bakhti), The silent revolution (2014, Oriol Messegué and David Marrades), Teachers (2015, Giovanna Ribes), Al Brown: Iron fists (2017, Carlos Aguilar), Da parish (2017, Lila French, Lizzie Prestel) or Good–bye Mr. Marshall (2017, Bebé Pérez), amongst others.
Besides he has worked for around ten international film festivals. Since 2019, he is the director of the Human Rights International Film Festival of Valencia, Spain.
If you have any questions, please do not hesitate to contact.
Keywords and matching areas:
Ideas in Progress
Arts Education
Cultural heritage
Cultural Management
Festivals
Film Festivals
Film and Media
Music
Theatre
Cinematography
Animation
Film and theatre project about how these arts have been used as a tool against war, totalitarism and hate speech. With this starting point, we will create an audiovisual project about it. Please do not hesitate to share your ideas in order to build up a great project.
Valencia, Spain
3 months ago
Arts Education
Cultural heritage
Cultural Management
Festivals
Film Festivals
Film and Media
Music
Theatre
Cinematography
Animation
We are developinng two film productions One is called Dystopia and it is about children's vulnerabilities. Currently lots of children come to Europe from Africa and middle East. Most of them have no home, no family and some of them are Besides the increasing inequalities in Europe force tomany children to live in poverty and/ or social ;With some entitites around Europe we are producing a film ...
Valencia, Spain
3 months ago
Arts Education
Cultural heritage
Cultural Management
Festivals
Film Festivals
Film and Media
Literature
Theatre
Cinematography
Animation
Hello,  in our Human Rights International Film Festival -Humans Fest, that takes place every year in February we have a program called Women of the World in which women filmmakers from all the world screen their films. We are planning to expand this program to other Euro festivals, if you are interested on participate in this project, please do let us know :)
Valencia, Spain
4 months ago