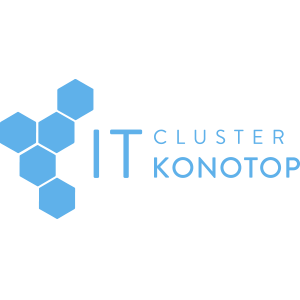 NGO "Konotop IT cluster"
Looking for Partnership
Looking for Consultant
Looking for Extra EU Funds
About Me
Who We Are
Konotop IT Cluster is a community of leading IT companies of the region. In cooperation with higher educational establishments they improve and develop IT in the town. We initiated system changes in Konotop business environment and launched worldwide image improvements of the town.
Our Objectives
Konotop IT Cluster is striving to convert Konotop into powerful IT center of Ukraine and of the whole world. We are about to create better environment for IT professionals self-fulfillment, to involve creative youth into information technologies field, to design competitive regional community of IT specialists.
Our Mission
Our vision is Konotop as a modern European city. It is the town, where huge IT companies are located, the best educational projects are implemented and in which one can both live and work conveniently.
Keywords and matching areas:
Ideas in Progress
Innovation
IT
Industrial Manufacturing
European Law
Partnership Management
Business Management
Relationship Management
Business Development
Industrial Engineering
Blockchain
We are looking for support for a project that will give impetus to the economic development of provincial cities and Ukraine as a whole. Project participants will be able to attend a business school and receive counseling support for starting and managing their own business. Goal: Enhance entrepreneurial potential in the region, which is currently one of the last plac...
Vulytsya Mykoly Amosova, 3, Konotop, Sums'ka oblast, Ukraine, 41600
5 years ago
Accelerators
Start Up
IT
Robotics
Education and Training
Higher Education
Lifelong Learning
Youth Workers
English
Ukrainian
Partnership advantages Life Quality IT industry development both of the town and the region to bring added value to socially important fields - education, law, infrastructure etc. Social Power Possibility to list your name into the records of Konotop history, to design IT future. Professional Perks Networking, communication and exp...
Vulytsya Mykoly Amosova, 3, Konotop, Sums'ka oblast, Ukraine, 41600
5 years ago