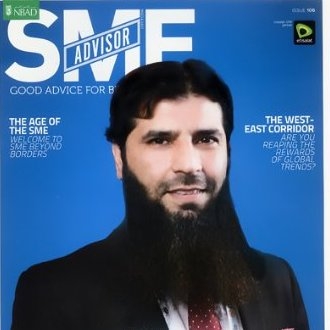 Fuji Office Machines FZE @home @office
Looking for Partnership
Looking for Consultant
Looking for Extra EU Funds
About Me
About me:
To obtain a challenging career in Business where I can maximize my skills, work quality and experience, I am open to network with all professionals across the globe for the welfare and betterment of humanity by Sharing our Knowledge and experience. we can all learn/gain from each other in a mutually beneficial manner. I have 25 years of Experience in Office Automation with good data base of global buyer/customer with access to some Key contacts in Regional Governmental organziations as well as International rlief ,welfare,donor agencies.
International Exhibitions/Seminars/Business forum participation is always my priorityand with regards to this I am regularly attending the below mentioned events
. PaperWorld Middle Educational and Skills Forum.
show, Cards & Payments Middle East,Dubai Chamber+Alibaba confernece, AIM Annual Investment Meeting, Arab Health, Gulf Food,
ATM Arabian Tavel Market, Dubai Hamburg Business Forum
Internationally:
FIW Foreign Inestment Week Seoul,South Korea member of UAE Delegation through Korea Trade Center by the invitation of Ministry of Knowledge of Econom South Korea.
Expo 2012 Yoesou, South Korea
Korean Expo,2013 Istanbul, Turkey by the invitation of Korea Trade Center
Power Sourcing Week Taipei,Taiwan member of UAE Delegation By the invitation of Taiwan Trade Center
CIFIT Fair China UAE Ministry of Economy delegation memeber
UAE Korea Business Forum,Abu Dhabi
My Business:
We are pleased to introduce ourselves as one of the Office equipment firm in Dubai. We have a team of expert professionals with wide experience in Sales & Service to assist you to meet your growing requirements. Fuji Office Machines() has always met the growing demand for quality and timely service required by today fast paced business environment.

The Company is committed to providing the best quality office products and the most innovative product to its valuable customers. Our business has the undying thirst to strengthen our trade relationship with you in any of the areas mentioned below. Please give us a chance to serve you and to convince you about the utility of our State-of-art office product and totally satisfying services
++971 507880076 Mob
Keywords and matching areas:
Ideas in Progress
Entrepreneurship and SMEs
Innovation
Start Up
Tourism
Education and Training
Youth Exchanges
Youth Workers
Fashion
Business Development
Marketing
Like minded Entrepreneurs to discuss the potential of business
Dubai - United Arab Emirates
5 years ago