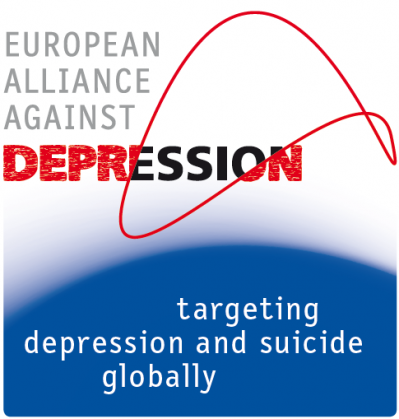 European Alliance Against Depression
Looking for Partnership
Looking for Extra EU Funds
About Me
General Information
The European Alliance Against Depression (EAAD) is an international non-profit organisation based in Leipzig, Germany, with several members and more than 100 regional network partners in Europe, Canada, Chile and Australia.
The main aim of the European Alliance Against Depression is to improve care and optimise treatment for patients with depressive disorders and to prevent suicidal behaviour. It was established in 2008 by a number of mental health experts from different European research institutions in order to sustain the EU-funded EAAD projects (2004-2008). The EAAD is involved in several European research projects targeting depression and suicide prevention.
Background
Based on the experiences from the model region "Nuremberg Alliance against Depression" which showed that suicidal acts can be reduced (-24% in two years compared to the baseline year) by implementing a specific 4-level approach, the European Alliance Against Depression was established financed by the European Commission (Executive Agency for Health and Consumers (EAHC)), with the aim to spread and implement this successful approach in other European regions and countries.
4-Level Approach
The 4-level approach that has been implemented in different regions in 17 European countries comprising the following four levels:
1. Primary care and mental health care GPs and pediatricians will be invited to educational workshops on how to recognize and treat depression and explore suicidal tendency in the primary care setting. Information materials ( video tapes) will be distributed to GPs who can hand them out to their patients.
2. General public: Depression awareness campaign The broad public will be addressed by large-scale public awareness campaigns including posters, cinema spots, information leaflets, brochures, public events and web presence. The aim is to improve knowledge about adequate treatments of depression in general and to reduce the stigmatization of the topic "depression" and the affected individuals.
3. Patients, high-risk groups and relatives "Emergency Cards" will be handed out to high risk groups (first of all young people in adolescent crisis and persons after suicide attempt) guaranteeing direct access to professional help in a suicidal crisis. Initiatives will be started to found regional self-help groups and support them with expert advice. Partnerships with patient associations will be established and intensified.
4. Community facilitators and stakeholders Educational workshops will be held to various target groups playing an important role in disseminating knowledge about depressive disorders ( health care professionals, priests, counselors, police). Particular emphasis can be put, on special offers for parents, youth workers and teachers in order to reach children and adolescents suffering from depression, deliberate self harm and suicidal behaviour ( information sessions and prevention programs in schools). A close co-operation with the media is crucial to trigger the public discussion. Special guidelines on media coverage of suicidal tendency will be distributed to prevent copycat suicides.
iFightDepression®
iFightDepression was created to foster depression awareness and to empower people suffering from depression through information and communication technologies (ICT). The iFightDepression website () and self-management programme (iFightDepression tool) were developed for this purpose.
provides comprehensive information for all about depression and suicidal behaviour in addition to details of local and regional helplines and support services. The website also provides information on helpful strategies to promote positive mental health, including self-management resources. There are tailored resources within to equip family members, healthcare professionals and community professionals to both recognise and respond to depression.
The iFightDepression tool is a self-management programme for individuals experiencing mild to moderate depression that is based on principles of Cognitive Behavioural Therapy and is guided by a trained GP or mental health professional.
Keywords and matching areas: