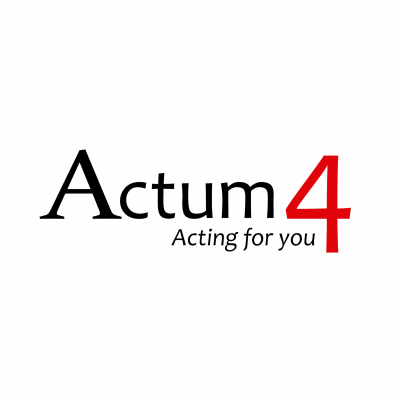 Actum4 Innovation SL
Looking for Partnership
Looking for Extra EU Funds
About Me
Actum4 Innovation is a Spanish company created by two senior experts in the field of cooperation and innovation management. Actum4 pretends to create value added in its customers by helping them grow in the new digital scenarios where they are obliged to compete, in Spain and other EU countries and Latin America.
Actum4's portfolio addresses these requirements acting on three main areas:
Business Development:

Analysis of business opportunities all over Europe
Funding opportunities: Private investors and EU calls (H2020, SME's Instrument, ...)
EU Project Management
Market and marketability analyses
Business Plans and Financial projections
Design and implementation of Balanced Scorecards
Coaching & Mentoring

Marketing & Sales:

Distribution Networks
Dissemination and Exploitation
Digital Marketing & Advertising
e-commerce

Innovation & Technology:

SMEs Digital Transformation
Apps Development for Smartphones & Desktop
Field Operational Tests
Actum4 is currently participating in different H2020 proposals dealing with innovation in Smart Cities, Transport, Energy, Agri-food and other sectors, as well as cascade funding grants, having been awarded as a Synchronicity pilot. We are looking to participate in further calls and also to get some funds for our cascade funding innovation products.
Keywords and matching areas:
Ideas in Progress
Accelerators
Start Up
European social fund (ESF)
Crowdfunding
Fundraising
EEA and Norway Grants
The idea is to develop and commercialise a self-developed system based on CPS to detect and avoid risky situations affecting physical integrity of people, addressing the increasing demand in our society to find toools aming to decrease the criminality in terms of physical aggressions. Our partners would be investors or business angels that would co-invest in the project...
Alicante (Alacant), España
3 years ago
Agrifood
Accelerators
Innovation
Technology Transfer
Health Care
FIWARE Accelerators Programme
Horizon Europe
Fundraising
Urban Innovative Actions
Smart Mobility
Interested in partnering with institutions or companies that are expert in specific technical areas but do not have resources or experience in managing or coordinating H2020 projects, and/or do not have experience in disseminating, sustaining and exploiting project results.
Alicante (Alacant), España
3 years ago