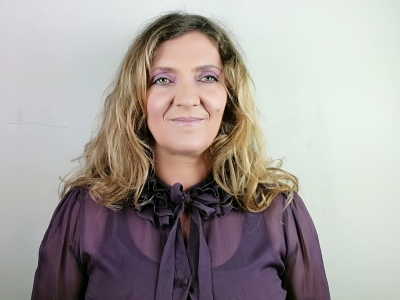 ioli.tsik
Looking for Partnership
Looking for Consultant
Looking for Extra EU Funds
About Me

PERSONAL INFORMATION Eleni Tsikritsaki-Symixi

Kastorias 17, 85100 Rhodes (Greece) 00306938883458 00302241068258 ;o=U&video_id=cfs7yNPVxkk Sex Female | Date of birth 09/09/1975 | Nationality Greek
POSITION MUSICIAN. "Let's play". Some words from me to you…I would like to thank you for accepting my invitation and I wish to spend creative moments together full of music. After much search regarding my studies in Music, both in Rhodes and Athens, and after 16 years of occupation with children in education and in laboratories of Preliminary Music Education especially after the most important and instructive experience which is motherhood, I want to offer the experience of Art to the children through play, which is the most natural way of approaching them. What we wish is to feel good and want to go ahead. To do what we have imagined, to say what we have thought and above all to have high spirits and yearning. The pedagogical way we will use is the ORFF system, whose creator is CARL ORFF, who was inspired from the Ancient Greek Art in which music, movement and speech consist a unique whole. The power of expression is liberated through Art. For this to become more understandable let's see the three stages of Art: a) The raw material as sounds, colours, movements. b) The composition of raw material to every Art correspondingly. If it is sounds, their composition to music. If it is movement, its composition to dance. If it is colours, their composition to a painting. This is the creative part of Art but there is the third stage as well: c) The emotion and the feeling which are caused both to the artist (of any age) and to the spectator-listener by the result of the composition. The emotion and the feeling are an expression which is caused by Art, therefore Art is expression. The expression is personal and unique for everyone and it must not be deteriorated or blocked by a criticism which would say if the creation made by a child or an adult is wrong or right, with the prerequisite of a good knowledge of any Art. I wish an Artistic travel in which the musical wind will send us to the most joyful places. Thank you, Sincerely Yours, Eleni Tsikritsaki.
Keywords and matching areas:
Ideas in Progress
Microfinance
Alternative Therapies
Arts Education
Culture and Development
COSME
Creative Europe
Europe for Citizens
Eurydice
Mental health
EEA and Norway Grants
  We are a group of artists Two Musicians a guy Musician very talented his name is Antonis Simixis and a Special Conductor Musical for children with mental deprivation and autism Eleni Tsikritsaki, a Ballerina and Choreographer Alexia Margaritis and a manufacturer of ceramic rugs and we want to establish a group with biomedical workshops where everyone can participate. In a very few words, I th ...
Kastorias 17, Rodos 851 00, Greece
2 years ago
Arts Education
Cultural heritage
Cultural Management
Culture and Development
Digital Culture
Festivals
Music
Creative Europe
Eurydice
Music Production
The power of art and more specifically Music that I have been dealing with have many areas of application and it is necessary for humanity to have access to biomedical level to all people of all ages because it is the art that heals the soul and interests the mind . For these reasons, I suggest creating groups of artists who will promote their art to people. Thank you Eleni Tsikritsaki.
Kastorias 17, Rodos 851 00, Greece
2 years ago