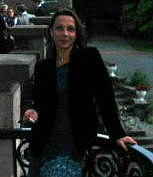 Katerina Girdjeva
Digital Culture
Erasmus+
About Me
Since 2014 I'm providing peer review evaluations for EACEA (Education, Audiovisual and Culture Executive Agency). I've been working under two of the programmes "Creative Europe" (small and large scale cooperation projects) and "Erasmus+" (KA2, Cooperation for innovation and the exchange of good practices: Strategic Partnerships). Thereby I'm familiar not only with the relevant EU objectives and priorities but also with the best practices in the respective fields of culture and education.
My professional background includes also a wealth of experience in Communications, Knowledge Management and Project ;
I've obtained my PhD in Bulgaria, but for more than 10 years now I'm living in the French-speaking part of Belgium. Hence, I'm fluent in English and French; and I have a network of contacts both in Eastern and Western Europe.
Ideas in Progress
Capacity Building
International Cooperation
Education and Training
Arts Education
European cultural mobility for artists and cultural practitioners: what are your needs?
Liège, Belgium
Created on 05 Mar 2019